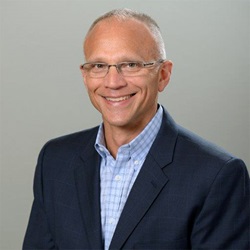 Background
Joe is a career veteran at finding and developing innovative food ingredients and solving complex food formulation problems. With more than 35 years of experience, he has helped teams develop hundreds of innovative solutions which have been launched to the market. He has served on multiple technology steering teams with industry partners and built an extensive global network. A noted expert on food texture, he understands how to solve texture and sweet taste challenges and how to deliver a consumer preferred product.
As the founder of Food Loving Ventures, LLC, Joe advises food tech start-ups as they seek to commercialize their technologies. He is the retired VP of global development, ingredient technology, and co-creation at Ingredion Incorporated where he built and leveraged food formulation capabilities across an extensive global laboratory network.
A proud supporter of his alma mater, Joe received a 2020 College of Agricultural Sciences Outstanding Alumni award. He is a member of the State Theatre NJ President's Council and Diversity & Inclusion Committee, and supports several local charities (Vanessa's Pantry, Elijah's Promise and LifeTies).
IFT Highlights
Joe is active with IFT's Feeding Tomorrow Board of Trustees, Seeding the Future Global Food System Challenge, and served previously on the IFT NEXT Think Tank and the Annual Meeting Scientific Program Task Force.
Education
BS in food science and chemistry education from Penn State University
Studied for his MS in food science at Rutgers University