Background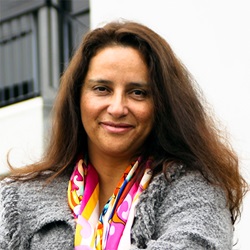 Martha has more than 28 years of worldwide food/agricultural and supply chain experience. Traveling while setting up production lines and delivering projects in more than four continents, Martha has dealt with both small and industrial size stakeholders or suppliers, government entities, and sophisticated buyers. She was appointed to the Board of the California Department of Food and Agriculture, Department of Commerce Export Council, and has served on the Worldwide Advisory Board of Women for Walmart, Board of United States Hispanic Chambers of Commerce, and several additional boards.
Martha is founder and CEO of AgTools Inc., an award winning, food supply platform offering real-time news and information to farmers and agriculture buyers, on everything from distribution to pricing. The company's product aims to help growers, especially small farmers, manage market volatility, increase profitability, and reduce the world's food waste and CO2, SO2 footprint.
As a child born to educators for working and rural families in Bogotá, Colombia, Martha began her professional career as a teacher of chemistry, biology and English in her native country.
Education
Formal education in chemistry and biology at LaSalle University and Javeriana University
Post graduate courses at the University of Chicago, the Tuck School of Business at Dartmouth, Stanford University Entrepreneurial and Scalability program, and the UC Davis Institute for Food, Ag & Health Entrepreneurship