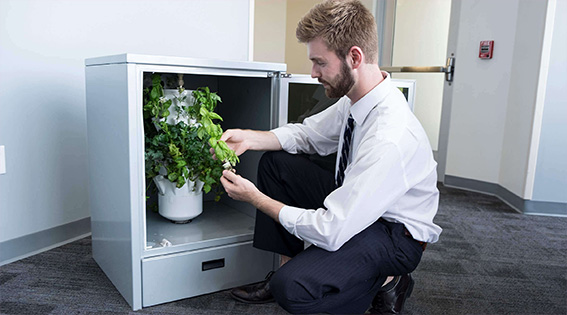 Will the farm of the future be located in your kitchen? Recent Purdue University engineering graduates Scott Massey and Ivan Ball are betting on it.
The two former classmates have patented the technology for a dishwasher-size appliance they call GroPod that's capable of growing up to 60 plants at a time and allows users to harvest their own lettuce, spinach, cilantro, and the like. The system features a ring-shaped tower stacked with seed-containing pods similar to those used in Keurig-style coffee makers. The ring rotates around two LED lights, supplying the plants with the energy they need to flourish. The ring design allowed the inventors to reduce the number of LED lights the system requires from four to two, Ball said, which helped them cut costs. Aeroponics nourish the plants via a nutrient-rich mist sprayed on their roots.
The entrepreneurs, who met while working on a project together at Purdue, started building prototypes in a campus apartment during their senior year. They went through eight different design iterations and built six protypes before arriving at the current model.
Massey, a mechanical engineer, and Ball, an electrical and computer engineer, graduated in May 2017 and launched a company called Heliponix that is on track to bring the GroPod devices to market by the end of the year. Each unit will carry a price tag of $1,995. Heliponix also sells the seed pods for the GroPod.
The system is fully automated and user-friendly, says Ball. "You just have to download the app and plug it in." Because GroPod is an in-home system, it offers advantages over produce that is grown indoors on a commercial scale, Ball contends. "We're completely eliminating the logistical supply chain from farm to the grocery store to the consumer's home," he says.
Massey believes the Heliponix model for cultivating produce has the potential to revolutionize agriculture. "Farming 3.0 will be defined as hydroponic appliances inside a consumer's home," he predicted in a recent TEDx talk.