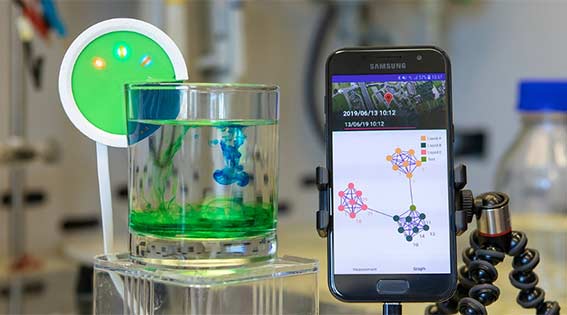 Humans' sense of taste is a complex mechanism that doesn't identify individual chemicals in a food or beverage but is able to sense and differentiate multifaceted chemical mixtures. Historically, man-made sensors have been unable to even begin to replicate that ability. Now, engineers in Scotland and researchers at IBM have developed two e-tongues that may close the technological gap in chemical sensing and, in doing so, help identify counterfeit alcohols.
In Scotland, researchers at the University of Glasgow's School of Engineering created their artificial tongue with sub-microscopic slices of gold and aluminum, arranged in a checkerboard pattern. The metals act as the "taste buds." The researchers then poured samples of whisky over the taste buds and measured how they absorbed light. Statistical analysis of the very subtle differences in how the metals in the artificial tongue absorb light—what scientists call their plasmonic resonance—allowed the researchers to identify different types of whiskies.
The tongue was able to taste the difference between the drinks with greater than 99% accuracy, and even able to detect the subtler distinctions between the same whisky aged in different barrels and aged for different periods of time. Results of the research are published in the Royal Society of Chemistry's journal Nanoscale.
"We're not the first researchers to make an artificial tongue, but we're the first to make a single artificial tongue that uses two different types of nanoscale metal 'taste buds,' which provides more information about the 'taste' of each sample and allows a faster and more accurate response," explains lead researcher Alasdair Clark. "In addition to its obvious potential for use in identifying counterfeit alcohols, it could be used in food safety testing, quality control, security—really any area where a portable, reusable method of tasting would be useful."
IBM is also working on developing an artificial tongue called Hypertaste. Like the device developed in Scotland, Hypertaste resembles our natural senses of taste and smell by using combinatorial sensing, which relies on the ability of individual sensors to respond simultaneously to different chemicals. Hypertaste uses electrochemical sensors comprised of pairs of electrodes, each responding to the presence of a combination of molecules by means of a voltage signal, which is easy to measure. The combined voltage signals of all pairs of electrodes represents the liquid's fingerprint. Key to the functioning of IBM's electrochemical sensors are polymer coatings covering each electrode.
The sensors relay the liquid's "fingerprint" data to the cloud where it is analyzed using trained machine learning algorithms. "Like a budding sommelier learning the intricacies of wine tasting, the Hypertaste sensor array needs to be trained to identify the liquids of interest before being put to the test," says Patrick Ruch, research staff member, IBM Research. "This is done by measuring the sensor array response in those liquids multiple times and then feeding the resulting data into a machine learning model which extracts the characteristic features associated with each liquid." Results are interpreted in less than a minute and displayed in a mobile app.
Portable, rapid fingerprinting of complex liquids may soon be within reach, saving the food and beverage industry time, money, and potential scandals from adulterated goods.