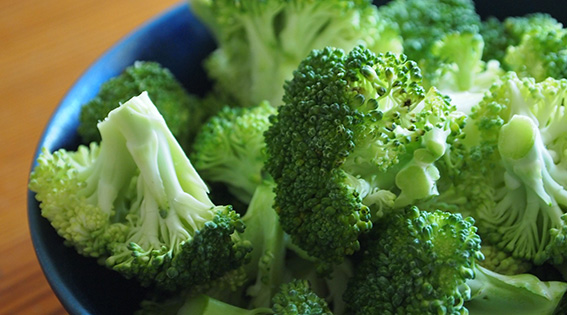 Research with a mouse model coupled with an analysis of human clinical trial data have suggested that bioactive compound(s) in broccoli and other cruciferous vegetables may reduce the progression of kidney disease in mice and humans with a specific genetic makeup.
The mice and humans that benefit from a compound or compounds in broccoli are those that lack the ability to produce an enzyme called glutathione S-transferase mu-1 (GSTM1) because they carry a variant in the GSTM1 gene. The GSTM1 enzyme is important because it helps the body eliminate toxins and fight oxidative stress. Research led by Thu H. Le of the University of Rochester Medical Center had previously shown that those individuals—who carry a GSTM1 variant called a null variant—have a higher risk of suffering from a decline in kidney function.
In a recent study, the researchers found that deleting the gene in mice with hypertension and kidney disease increased kidney damage but that the damage was significantly lessened when their diets were supplemented with broccoli powder. Normal mice with kidney disease did not experience the same benefit from consuming broccoli powder, however. Results of the study were published in the Journal of the American Society of Nephrology.
"We speculate that the GSTM1 enzyme may be involved in the breakdown of antioxidant-promoting compounds, and therefore deficiency in the enzyme may increase the bioavailability of protective compounds relevant in kidney disease," said Le in a press release from The American Society of Nephrology.
In addition, analyzing information from a large clinical trial with humans showed an association between high consumption of broccoli and other cruciferous vegetables and lower risk of kidney failure. Similar to the mouse study, this was particularly true for participants with the GSTM1 variant that meant they lacked production of the enzyme.
Le said the study illustrates that the impact of diet on disease modification is affected by genetics and that knowing an individual's genetic makeup allows for tailoring of treatment. "In the context of personalized and precision medicine, increased consumption of cruciferous vegetables may be protective," he continued, "particularly in those lacking GSTM1 who are genetically most at risk for kidney disease progression."
The study authors said in the journal article that their findings suggest that antioxidant therapy may be effective in delaying the progression of kidney disease in people who carry the GSTM1 deletion variant.