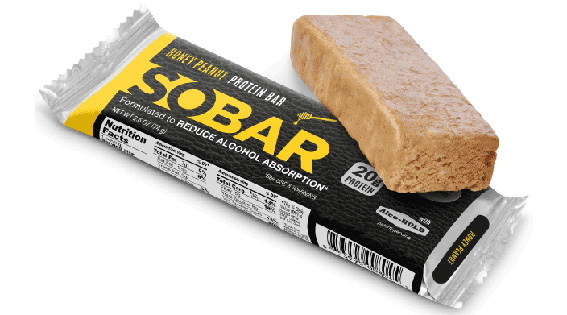 Just in time for the season of holiday happy hours, office parties, and festive family gatherings, a company called Zeno Functional Foods is introducing a protein bar formulated specifically to help promote sobriety by reducing alcohol absorption. Aptly named the SOBAR, the new bar is the brainchild of physician/scientist/foodie Joseph Fisher, who says the concept is designed "to help address the tremendous negative influence that alcohol has on global health outcomes." Fisher says that the bar, nearly two years in development, is the first food product of its kind.
All foods reduce alcohol absorption (although to different degrees), but the formulation of SOBAR, which is a proprietary mixture of milk protein and insoluble oat fiber, makes it particularly effective, he says. Zeno's patent-pending formulation, Alco-HOLD, works to reduce the rate of gastric emptying, which enhances alcohol inactivation.
If alcohol sits in the stomach, it is partially inactivated due to an enzymatic action termed "gastric first pass metabolism," Fisher explains. "In contrast, alcohol that gets released from your stomach to the small intestine is very rapidly absorbed due to the large surface area of the intestinal microvilli," he continues. "Therefore, if you have an empty stomach, the alcohol does not sit there long and moves to the small intestine quickly, which facilitates fast absorption. If you can delay the speed of stomach emptying, alcohol sits in the stomach a lot longer, and it can be inactivated there."
In a recent clinical trial, a group of 21 healthy adults consumed either no food, a 210-calorie SOBAR, a 210-calorie serving of a popular snack mix, or a 635-calorie meal before having two drinks. As one might expect, when alcohol absorption was measured over the course of 90 minutes, the full meal had the greatest effect, reducing peak blood alcohol concentration by 68% (compared with no food). The snack mix reduced blood alcohol concentration by 25%, and SOBAR reduced it by 50%. Although the full meal was most effective overall, SOBAR outperformed both the meal and the snack mix by about 2 to 1 on a per-calorie basis, the company reported in a press release. The study's findings were published in the Journal of Medicinal Food.
The bars, each of which contains 20 g of protein, are available in Honey Peanut, White Chocolate Almond, and Carmel Macchiato varieties.
Although he's enthusiastic about the benefits of SOBAR, Fisher cautions SOBAR consumers about overestimating its benefits. Just because you consume a SOBAR doesn't mean you can't become intoxicated, and it won't sober you up or reduce blood alcohol levels if you're already intoxicated, he emphasizes.
A member of IFT who has MD and PhD degrees from Stanford University, Fisher says his company is focused on creating foods that modulate specific physiological responses (i.e., hormonal, neuro-muscular, or behavioral).