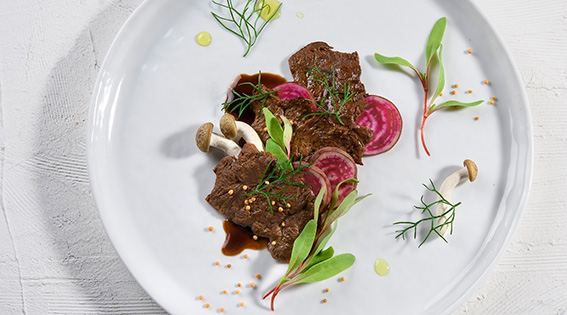 An Israeli company has produced what it says is the first lab-grown steak, cultivated from a few cells isolated from a living cow and nourished in the labs of Tel Aviv–based Aleph Farms. Several other companies have touted the development of cultured meat burgers and/or chicken-like nuggets, but experts agree that creating a product with the taste and texture of steak is even more complicated.
"Meat is a complex tissue made of several types of cells growing together into a given 3-D structure," says Didier Toubia, co-founder and CEO of Aleph Farms. He explains that the difficulty lies in "finding the right conditions for different types of cells to grow together, the same as in their natural environment, and making them interact in order to reproduce the natural structure of meat, which is a complex muscle tissue."
Aleph Farms is co-developing its lab-grown meat based on a "tissue-engineering" platform developed for a medical application by Shulamit Levenberg, a professor of biomedical engineering, at the Technion, a public research university in Haifa, Israel. "Professor Levenberg is a leading researcher in that field (tissue engineering) with a unique experience in growing skeletal muscle tissue in vitro for 'fixing' damaged muscle in a patient," says Toubia. "This know-how is unique and grants Aleph part of its competitive advantage."
The process combines six different technologies, which will allow the company to reduce production costs. It makes use of an animal-free growth medium to nourish the cells and bioreactor tanks in which the tissue is grown.
"The steak we introduced is intended to demonstrate our capability to achieve our goal and grow steaks," says Toubia. "It is a prototype, which is not yet produced according to fully scalable processes and does not yet meet all commercial product requirements." The prototype steaks are small and thin, so next steps involve increasing the dimension of the steak, Toubia says. Nonetheless, he adds, "The technology we developed marks a true breakthrough and a great leap forward in producing a cell-grown steak."