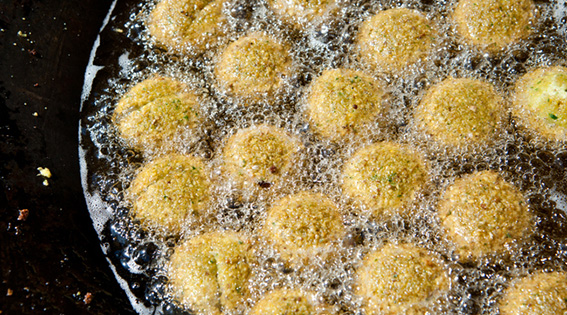 The origins of many popular dishes begin with foods being fried in vegetable oil. Despite the fact that fried foods tend not to have healthy halos, scientists had not conclusively determined whether foods fried in vegetable oil were detrimental to human health. However, a recent study sheds more light on the effect that foods fried in vegetable oil could have on colon health.
Scientists at the University of Massachusetts–Amherst (UMass-Amherst) recently completed a study on the effects of foods fried in vegetable oil in animal models. Using mice as test subjects, the researchers wanted to get a better understanding of how used vegetable oil would affect the colon and inflammatory responses. The UMass-Amherst scientists fried falafel in canola oil at 325°F and later fed a mixture of that cooking oil and fresh oil to one group of mice while feeding only fresh oil to a second group of mice. The first group of mice experienced gut leakage, increased inflammation in their colons, and an uptick in tumor growths.
Noting that the diets of the study mice mimicked that of humans, the scientists said in a press release that their research does not indicate that frying oil causes cancer. Rather, they believe that the chemical changes vegetable oils undergo when they are heated can be detrimental to the health of individuals who are already prone to colon cancer and/or inflammatory bowel disease.