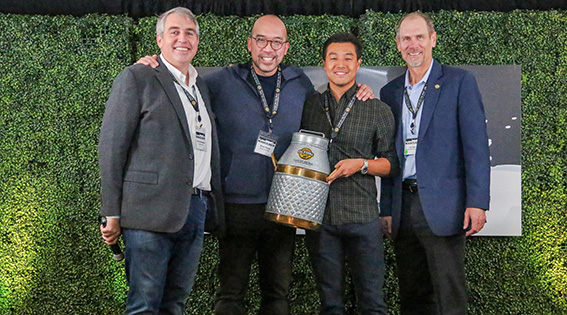 Left to right: Fred Schonenberg, founder of VentureFuel, Kevin Yeung and David Sheu, co-founders of Bears Nutrition, and John Talbot, CEO of the California Milk Advisory Board.
Bears Nutrition and its milk-based nutritional shakes for children were named the grand prize winner of the inaugural Real California Milk Accelerator dairy startup competition. The competition, sponsored by the California Milk Advisory Board (CMAB) and managed by leading innovation consultancy VentureFuel, will provide Bears Nutrition with $250,000 in resources and funding to bring their fortified milk beverages to market.
Bears Nutrition's winning product is a daily milk-based beverage fortified with protein, vitamins, minerals, and omega 3 fatty acids designed specifically for children aged three and older. The products currently have limited distribution in Europe and China, but the founders look forward to expanding throughout the United States, sourcing the milk from California.
"Our mission at Bears is to help kids reach their full growth potential and we believe milk is a cornerstone to achieve that mission," said David Sheu, CEO and co-founder of Bears Nutrition. "With the help of the CMAB, we look forward to making milk a staple in kids' routines again."
The Milk Accelerator competition was designed to inspire innovation and investment in fluid milk products, packaging, and capacity within California by connecting manufacturers, producers, investors, ideas, and entrepreneurs for high-quality, sustainable dairy beverages. Alongside eight other finalists, Bears Nutrition was judged on taste, nutritional value, packaging innovation, sustainability, and the ability to scale by a live panel of judges from the dairy, consumer packaged goods, and investor communities including business, industry, and academic influencers. Bears Nutrition was one of nine finalists that each received up to $25,000 of support to develop protocepts while receiving elite mentorship from marketing, packaging, and distribution experts.
"Not only are we excited to provide consumers with a healthy, great-tasting new beverage option by helping to bring Bears Nutrition shakes to market, but we also look forward to seeing what the other finalists are able to achieve with the support they've received through this program," said John Talbot, CEO of the CMAB.