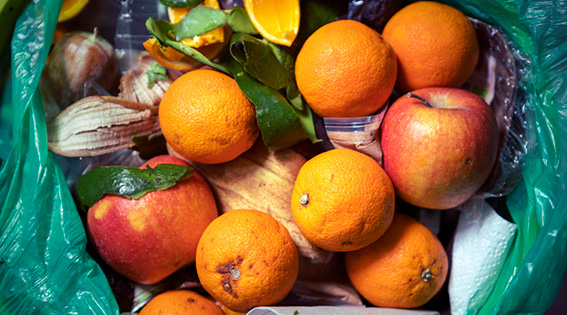 Here is a shameful statistic: A little more than 1 billion tons of food is wasted every year around the world. Researchers are working to find ways to reduce the staggering amounts of wasted food, and one of the latest studies on the topic suggests that thinking of fresh produce in terms of human traits may help.
This humanizing of food may help people look at fruits and vegetables that are a little less than fresh or imperfect in a different way. "We suggest that when old produce is humanized, it is evaluated more favorably, since it leads consumers to evaluate the old product with a more compassionate lens," write the researchers, who are from University of Illinois at Urbana-Champaign and University of Houston. A couple of the ways that the researchers anthropomorphized produce that was slightly past its prime in images was to show a banana lounging in a chaise and arranging cucumber slices in a way to show a human face. Subjects rated these types of images more favorably than images of produce that was not anthropomorphized.
The researchers suggest that store managers and food marketers could adopt a similar format to showcase produce that may look less than perfect but is otherwise nutritious and safe. They published their study in Journal of the Association for Consumer Research.