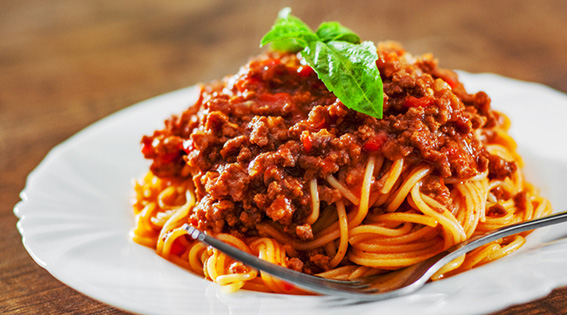 Eating foods like tomatoes and tomato sauce that are rich in the carotenoid lycopene is associated with cancer-fighting benefits, but lycopene, unfortunately, is not well absorbed by the body. And if it's consumed along with iron-rich products, it's less likely that the anti-cancer benefits will be realized, according to research from scientists at The Ohio State University and two French institutions.
"The primary objective of this study was to follow lycopene metabolism in the upper digestive tract of healthy humans, in the absence and presence of dietary iron," the researchers wrote in an article detailing the study's findings published in the journal Molecular Nutrition & Food Research. To do so, they analyzed both the digestive fluid and the blood of a small group of study subjects who consumed either an iron-fortified shake made with tomato extract or one made without the added iron. They found that lycopene levels in the digestive fluid and blood were significantly lower when the test subjects drank the shake with the iron supplement.
"When people had iron with their meal, we saw almost a twofold drop in lycopene uptake over time," the study's lead author, Rachel Kopec, said in a press release about the research. "This could have potential implications every time a person is consuming something rich in lycopene and iron—say a Bolognese sauce or an iron-fortified cereal with a side of tomato juice. You're probably only getting half as much lycopene from this as you would without the iron," continued Kopec, an assistant professor of human nutrition at Ohio State.
She added that going into the study the researchers knew that mixing iron with certain compounds destroyed them, but they didn't know about its effect on carotenoids like lycopene.