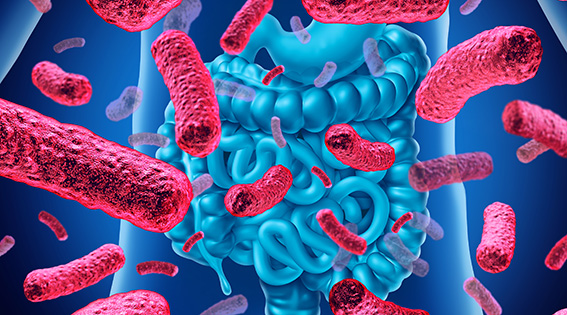 Research suggests that the gut microbiome is incredibly responsive to dietary intake. In fact, gut microbiota have a symbiotic relationship with the human body: The microbiota survive on the foods that humans consume, feasting on the prebiotic fibers that humans could not digest without them. Recently, scientists have determined a way to change the makeup of gut microbes by remodeling the microbiome without the use of prebiotics or probiotics.
Prebiotics are fiber-rich foods that travel beyond the stomach and into the colon, where the majority of gut microbiota live. Such foods provide the fuel that good gut microbes need to flourish and function properly. And probiotics are live microorganisms that, when administered, populate the colon with good microbes that benefit the host. Most efforts at improving the makeup of gut microbiota involve the use of prebiotics and probiotics. However, researchers at the Scripps Research Institute have devised a new way to improve the composition of gut microbiota: remodeling the microbiome.
M. Reza Ghadiri and his research team at Scripps Research Institute have developed a class of molecules called self-assembling cyclic D, L-α-peptides. Ghadiri and his team programmed the peptides to selectively modulate the growth of certain bacteria species in the gut. The researchers tested the peptide in mouse models to determine whether they would be effective in remodeling the guts of mice eating a poor diet to resemble the guts of mice eating a low-fat nutritious diet. Using the peptides, the team was successful in remodeling the gut microbiome of poor-diet mice to resemble the gut microbiome of mice consuming nutritious diets. The peptides appeared to increase the numbers of beneficial gut microbes and suppress the levels of molecules that increase inflammation and rebalance levels of metabolites associated with disease.