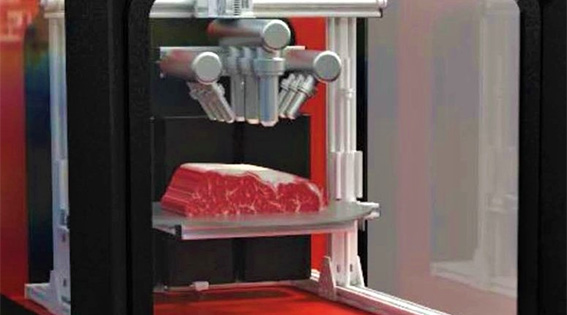 3-D printing is revolutionizing production of shoes, airplane and car parts, and medical devices, but its use in the food sector has yet to be adopted by the masses. With an injection of $6 million in capital raised last month in a seed round, Redefine Meat is ready to change that. The company is applying proprietary 3-D printing technology, meat digital modeling, and advanced food formulations to produce animal-free meat with the appearance, texture, and flavor of whole muscle meat.
Its animal-free meat comprises natural and sustainable ingredients that deliver the same appearance, texture, and flavor of animal meat used for steaks, roasts, and stews. The technology will also enable meat distributors and retailers to design the characteristics of their meat to cater for seasonality, changing demands, and consumers preferences with "printed meat" that is 100% predictable and replicable.
"The way we apply 3-D printing is by combining different materials throughout the printing process," explained Eshchar Ben-Shitrit, Redefine Meat's co-founder and CEO, in a recent Forbes article. "Real meat's matrix is controlled by biology and the lifespan of the animal. Other technologies get you a meat flavored dough—we mimic the real thing, including muscle, pockets of fat, and moisture that help release flavors when you bite."
According to the company, the use of 3-D printing to produce alternative meat products will enable the creation of a productive and flexible 21st-century supply chain that is more sustainable than current animal factory farming and meat processing. In fact, the company claims that its alternative meat products have a 95% smaller environmental impact than animal meat, while also having the benefit of being cholesterol free.
"Our goal is not just to develop a new food product, but to introduce a new technology for developing, producing, and scaling alt-meat products," said Ben-Shitrit. "We have already successfully printed great products for multiple foodie events, and over the coming 12 months, we will take the technology to the next level where we expect to make a huge impact on the meat market and the future of our planet."
Redefine Meat plans to use the $6 million in funding to finalize the development of its 3-D printer for a release to market next year.