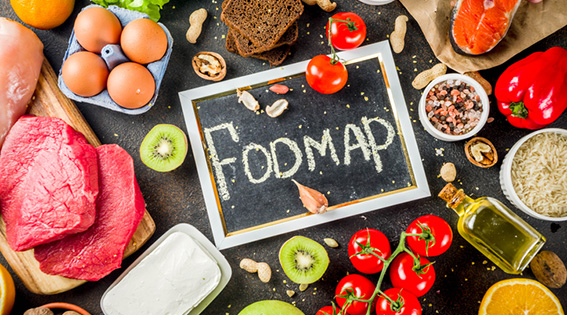 Researchers from the UK and France have found that a diet low in fermentable oligosaccharides, disaccharides, monosaccharides, and polyols (FODMAP) improved some gut symptoms and improved health-related quality of life for sufferers of inflammatory bowel disease (IBD). Their research study was published in Gastroenterology.
For the four-week diet study, the researchers analyzed 52 patients who suffer from IBD and had persistent gut symptoms despite no ongoing gut inflammation. The patients were randomly assigned to two groups. The first group received a low FODMAP diet, restricting intakes of foods such as wheat, dairy, onions, and garlic. The second group received a controlled "normal" FODMAP diet. A majority (52%) of patients consuming the low FODMAP diet reported adequate relief of gut symptoms such as swelling of the stomach and flatulence, had a greater reduction in gut symptom severity, and had a higher health-related quality of life score.
"While we know that the low FODMAP diet is effective in patients with irritable bowel syndrome (IBS), this is the first randomized trial showing that it's effective in reducing common gut symptoms experienced by patients with IBD in remission. This improves health-related quality of life in these patients," stated lead researcher Selina Cox from King's College London.
The researchers also discovered that the low FODMAP diet reduces certain gut bacteria, such as Bifidobacteria, that may be beneficial to health and may reduce inflammation. Despite the changes in beneficial bacteria, gut inflammation did not appear to increase after the low FODMAP diet in patients with IBD.
"We carried out this randomized controlled trial to establish whether these common gut symptoms in patients with IBD in remission could be managed by the low FODMAP diet. Indeed, this could represent a safe and cost-effective management option," said researcher Kevin Whelan from King's College London.
The research team plans to study the effects of a longer-term low FODMAP diet and establish the effect of FODMAP reintroduction on gut symptoms and gut bacteria.