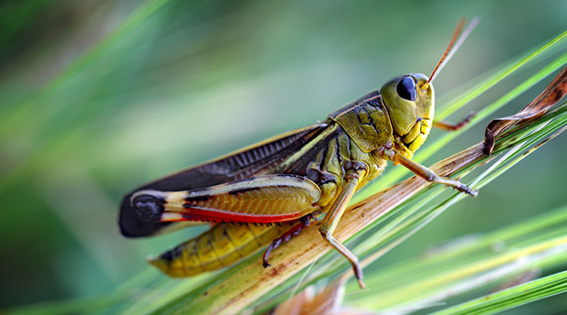 Grasshoppers and crickets are high in protein and are consumed by many people around the world. There's been excitement by some that these insects could help meet the protein needs of a growing population. These insects can be raised in industrial settings similar to livestock animals. To learn more about the nutritional needs that grasshoppers and crickets would need in a factory farming setting, scientists conducted a first-of-its-kind study showing that various types of feed affect the growth and development of the insects.
In the wild, the insects consume leaves. "But supplying large insect farms with fresh greens year-round is virtually impossible to implement. You need feed of verifiable quality and safety that can be dried, stored, and transported," says Wilhelm Windisch, a professor of animal nutrition at the Technical University of Munich and one of the researchers.
Windisch and members of the research team tested different dry feed samples that contained cornstarch, protein and fiber-rich cowpea leaves, protein-rich soy extract, and vitamin-enriched carrot powder on the insects. They gained some interesting insights into what to feed the insects. "The results surprised us," says Windisch. "It was clear to us that the metabolism and digestion are rather different in insects than in conventional farm animals such as cattle, pigs, and chickens. What we did not expect were immense species-specific differences."
Some of the differences are in how nutrients are processed by the insects and how nutrients affect the growth rate of the insects. The results showed that crickets excrete fiber-rich food while grasshoppers are able to digest plant fibers that humans cannot. Crickets grew quickly when fed starch while grasshoppers only grew quickly when fed protein.
The researchers want to investigate the mechanisms behind these differences and hope to study the activity of the enzymes in the intestines of various insects. As far as the current research that they conducted is concerned, they say that the study may contribute to the efforts to learn more about insect production as novel livestock and the potential nature of insects as a sustainable source of protein.