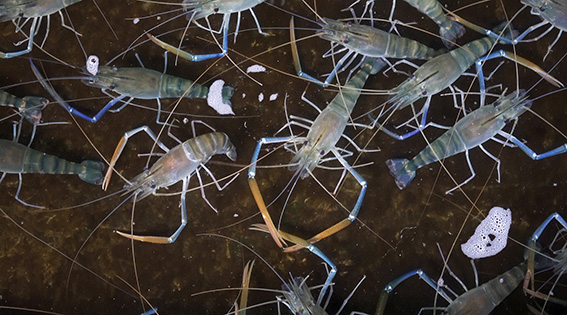 The second most devastating parasitic disease in the world is schistosomiasis, which affects agricultural and fishing populations in poor and rural communities of tropical and subtropical regions. About 250 million people contract schistosomiasis every year. Scientists at the University of California, Berkeley, recently revealed new research that outlines how freshwater prawn farms can reduce the spread of the parasitic disease.
The organisms that cause schistosomiasis are parasitic worms that live, develop, and multiply in certain freshwater snails. When the parasitic worms are mature, they come out of the snails and contaminate the freshwater. When humans come in contact with the water, the worms penetrate the skin and live in the blood vessels. According to the recent study, small-scale aquaculture systems of river prawns would aid in the reduction of these parasites in freshwater.
River prawns are voracious consumers of the snails that carry the parasitic worms. The parasites cannot infect the prawns, and the parasitic disease (schistosomiasis) is not transmissible via ingestion. Using economic and epidemiologic modeling, the researchers determined that raising native prawn species in the freshwater habitats where the parasite-carrying snails live would not only reduce the number snails in the water but also generate revenue for the farmers. Their research indicates that growing native freshwater prawns in contaminated waterways would have the same effect as the widescale administration of drugs that prevent schistosomiasis transmission.
The researchers believe that freshwater prawn aquaculture is a new tool to combat schistosomiasis around the world.