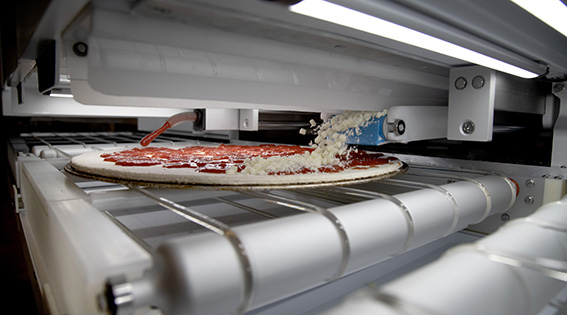 Seattle-based Picnic, an innovator of food production technology, recently introduced a compact robotic system that can produce customized pizzas at rates up 180 units/hour for 18-inch pies or 300 units/hour for 12-inch pies.
"We are defining the new standard for food preparation and offer the only pizza automation platform supporting mass customization," said Picnic CEO Clayton Wood. "Picnic enables foodservice operators to eliminate many current pain points and address evolving consumer tastes."
Two customers have purchased the system, which uses computer vision and deep learning. Centerplate, an event caterer, purchased the pizza-making machine for use at T-Mobile Park, home of the Seattle Mariners baseball team. "We are happy to roll out a pilot of the Picnic pizza-making technology in our kitchens, as we look to enhance our quality and speed of service," said Adrian Dishington, senior vice president, Centerplate. "Technology that enables employees to be more successful will influence the guest experience at ballgames, concerts, and all types of events moving forward."
The other customer of the equipment is Washington-based restaurant Zaucer Pizza. "The assembly system is extremely flexible and painless to set up. It's safe to work around, takes little space to operate, and only minimal training is required," said Aaron Roberts, co-CEO of Zaucer Pizza.
As part of its Robotics-as-a-Service (RaaS) model, Picnic will deliver, install, and maintain the system, and provide platform and software updates for a monthly fee with no money upfront. The company can also provide custom design software solutions for operators to integrate with existing point-of-sale and ordering systems.
Pizza is only the beginning. According to the company, the modular system will be able to make sandwiches, salads, bowls, and other products in the future.