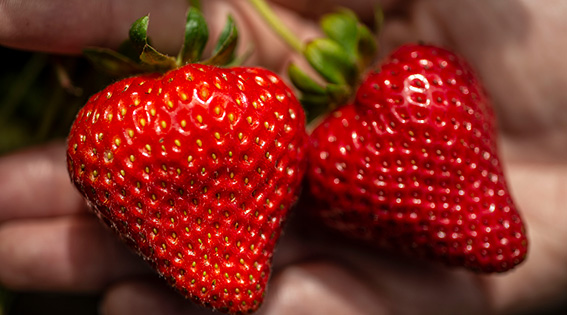 photo courtesy of UC Davis
Five new strawberry varieties boasting properties that will help growers control costs, better manage diseases, and use less water, fertilizer, and pesticides have been developed through the Public Strawberry Breeding Program at the University of California, Davis (UC Davis). Two of the new varieties have the potential to boost yields by almost 30%.
"These new varieties are intrinsically different from the ones they replace," says Steve Knapp, professor and director of the UC Davis Strawberry Breeding Program. "After more than three years of field tests, we're seeing higher yields, greater disease resistance, and better quality after harvest."
The new strawberry varieties have traits that are tailored to specific climate conditions. Moxie, Royal Royce, and Valiant strawberries are bred to grow best in warm temperatures while the Victor and Warrior varieties are suited to parts of California where the temperature is cooler.
UC Davis ag experts report that Moxie and Royal Royce have shown yield increases 29% greater than previous strawberry varieties developed at the university. In addition, Moxie and Royal Royce have the advantage of sending out fewer vine-like runners. Runners mean extra production costs for growers, who may have to hire labor to cut them back in order to allow the plants to conserve energy required for producing large, sweet berries.
All the new varieties have improved disease resistance, and that is particularly significant because commonly used pesticide methyl bromide and other fumigants used by strawberry growers are being phased out by the U.S. Environmental Protection Agency.
Nearly 90% of U.S.-grown strawberries are produced in California, and about 60% of the state's strawberry fields are planted with varieties developed at UC Davis.