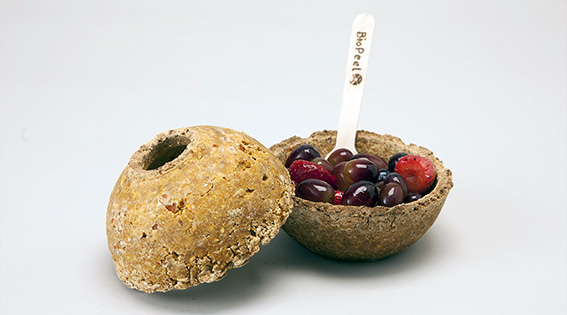 photo courtesy of Brunel University
Waste and plastic pollution are two sustainability issues top of mind for many in the food industry. Denny Handley, recent design graduate from Brunel University London, has developed packaging that may help with both issues. BioPeel is a material composed of dehydrated orange peels mixed with a pre-existing biopolymer made up of vegetable glycerin, corn starch, potato starch, and water. It is then hardened through a process of molding, baking, and drying.
Why orange peels? Initially, the idea stemmed from research into processes that naturally produced waste in the food industry, such as the masses of waste from making orange juice. "Initially I had the idea that you could use all the waste produced making one liter of orange juice to create the carton," said Handley. "But the material itself steadily degrades in water, so I looked for other applications for it."
The liquid biopolymer is partly absorbed by the peels thereby creating strong bonds across it and drastically increasing the materials compressive and tensile strength. "It's really strong—when we tested it, it took over half a ton of compressive strength on certain samples," said Handley.
The final product looks a lot like a pie crust, and given the appearance, Handley believes it's more suited for farmers' markets and takeout rather than the grocery store. The material's properties also make it ideal for other applications like packing crates and even furniture.
The beauty of BioPeel is that it utilizes two waste products—orange peels from orange juice production and vegetable glycerin from biodiesel production—and provides a single-use packaging solution that doesn't require plastic and can give the energy used to make the packaging back into the environment after use. Unfortunately, it is also a lot heavier than plastic and perhaps not as visually appealing to consumers.
So, while the material would need further development to make it commercially feasible, it serves as a reminder that innovation and solutions to the food industry's most pressing problems can be found everywhere—even in the trash.