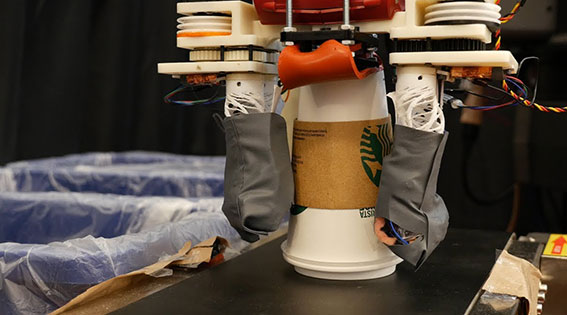 Failure to properly sort materials for recycling leads to waste; in the United States, 25% of all recycled materials are so contaminated they must be sent to landfills. Many large recycling centers already use magnets to pull out metals, and air filters to separate paper from heavier plastics. Even so, most sorting is still done by hand. It's dirty and dangerous work.
Lillian Chin and her colleagues at the Computer Science and Artificial Intelligence Lab at MIT have developed a robot arm with soft grippers that picks up objects from a conveyor belt and identifies what they are made from by touch. The results (pdf) are published by the Institute of Electrical and Electronics Engineers (IEEE).
The robot, called RoCycle, uses capacitive sensors in its two pincers to sense the size and stiffness of the materials it handles. This allows it to distinguish between different metal, plastic, and paper objects. For the study, RoCycle correctly classified 27 objects with 85% accuracy with a stationary gripper and 63% accuracy on a recycling setup with objects passing on a conveyor.
The objects that RoCycle had difficulty with were paper-covered metal tins, which the robot classified as "paper," suggesting that the coating may have provided enough insulation for the gripper to not properly identify the objects. In addition, the RoCycle is currently unable to differentiate between different types of plastics, such as polyethylene terephthalate (PET) or polypropylene.
Another drawback is that picking up items one by one takes time. This makes RoCycle too slow for industrial recycling plants, which are expensive to run and need to process waste quickly to cover costs. The team is working on combining its touch-based robot with a visual system to speed things up. This robot would scan objects passing by and pick up only those it wasn't sure about.
The researchers concluded that, "Despite the preliminary nature of our work, this soft robotic gripper offers great potential for improving recycling efficiency. Although the classifier is not perfect in performance, any improvement to upstream sorting can have significant quality improvements downstream."
Chin thinks that such robots could be used in places like apartment blocks or on university campuses to carry out first-pass sorting of people's recycling, cutting down on contamination.