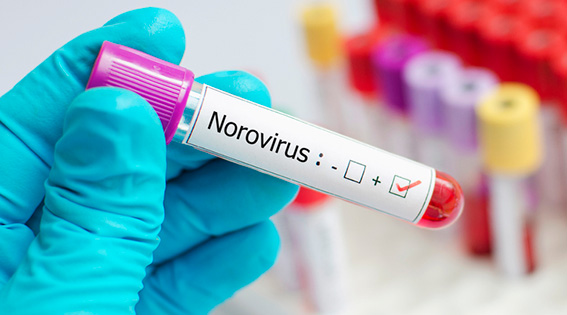 Noroviruses account for a large share of foodborne illnesses caused by consumption of contaminated produce. But a team of researchers recently developed a novel method for combating them. They used a combination of cranberry juice and fruit extract to create an edible coating that can be applied to produce. When used in conjunction with gamma irradiation, the coating helps eliminate contamination without affecting the quality of the produce or posing a risk to consumers.
Monique Lacroix, a researcher at Institut National de la Recherche Scientifique, developed the coating, which is sprayed on fresh fruit or vegetables that are subsequently treated with cold pasteurization, such as irradiation. Because the organic acids and polyphenols in the fruit extract help to inhibit viral activity, a much lower dose of gamma rays or x-rays can be used. The reduction in dosage is important because while irradiation destroys noroviruses, it can, at higher dosages, also alter some of the properties of the produce.
"Noroviruses usually require an irradiation dose of three kilograys, but we have shown that the treatment time is reduced by half with this fruit mixture spray, which acts as a natural antimicrobial," explained Lacroix in a press release.
Having been the first team to test the fruit extract mixture as part of a combined treatment, Lacroix and her colleagues were able to demonstrate the efficacy of their two-step approach, described in the Journal of Applied Microbiology. "Both the juice and extract have the ability to remove noroviruses when used alone, but when combined with cold pasteurization in the same treatment, the fruit concentrations required are significantly lower," she noted.
The next step for Lacroix and her colleagues is to collaborate with the food industry to test a variety of natural fruit extract and cold pasteurization treatments on a commercial scale.