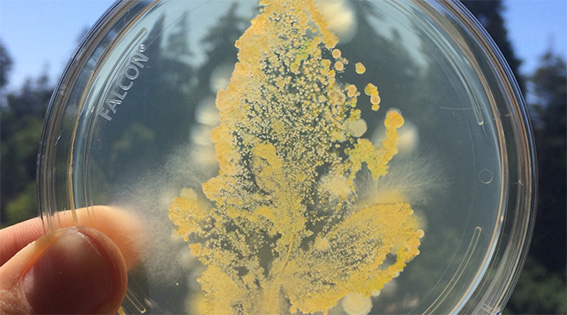 photo courtesy of Britt Koskella lab
Much as in humans, a healthy microbiome can help ensure that plants are resistant to pathogens. In a study conducted at the University of California, Berkeley, researchers used experimental evolution to identify the core microbiome of commercial tomatoes by searching for microbial communities that could defend against random microbes landing on the plants. The findings indicate that the plant microbiome could be manipulated with probiotics to create crops that require less fertilizer and pesticides while still producing robust yields.
During the experiments, four successive generations of plants were sprayed with the microbiomes of the previous generation. The microbial community of each tomato type was nurtured through generations so it could adapt to each strain, eliminate maladapted microbes, and help well-adapted ones to grow. By the fourth generation, the original microbial taxa accounted for only 25%, with the remaining 75% going extinct.
"That is really interesting in itself because it suggests that a lot of the microbes out there aren't well-adapted, they are kind of there by chance," explained study leader Britt Koskella, in a press release. "The wind blew them there, rain splashed them there, but they are not thriving, they are likely not adapted to that particular environment."
When a mixture of microbes—50% taken from the partially adapted microbiome of the first generation and 50% from the fourth generation—was sprayed on the tomato plants, the fourth-generation microbes prevailed, indicating they were better adapted to the tomato.
Koskella finds the results encouraging. "We already know that, in theory, you can select for microbes that perform particular functions: increased yield, drought tolerance or disease resistance, for example," she said. "We are showing here that you can, in principle, create a microbial community that has the function you are interested in, but also is uninvadable, because it is really well-adapted to that plant."
The researchers are conducting additional experiments to discover if the selected microbiome actually improves plant health, resilience, and productivity, and if the integration of probiotic microbes can successfully deliver lasting crop benefits.