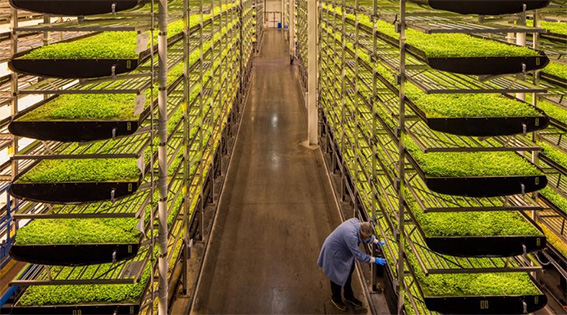 photo courtesy of AeroFarms
Interest is growing in novel farming systems, such as indoor farms, aquaculture, insect, and algae production. For example, during 2019, venture capitalist firms invested $745 million in novel farming systems in 75 deals, an increase of 38% over 2018, according to AgFunder's sixth annual Agri-FoodTech Investing Report.
AeroFarms is one leader in this category. It uses patented aeroponic technology to improve indoor vertical farming with increased productivity, minimal environmental impact, and virtually no risk. Its retail brand, Dream Greens, offers locally grown, pesticide-free produce year-round.
Another leader, Germany-based Infarm, grows small indoor gardens inside grocery stores around the world. For instance, Kroger started growing produce in two Seattle-area stores last November through a partnership with Infarm, according to the Financial Post. The company remotely controls the farms with a cloud-based platform to provide fresh, local produce to global customers.
Companies like AeroFarms and Infarm are attracting venture capitalists (VCs) because they're fulfilling crucial food needs. "We've seen increased consumer demand for fresh items in retail, with the perimeter of the store outperforming the center of the store over the past several years," says Matthew Walker, managing director at S2G Ventures, a multi-stage food and agriculture venture fund. "That increase in demand has led to a push for more variety in produce and an increased focus on novel flavors and enhanced freshness."
By developing novel solutions, such as in-store farms, suppliers can focus on optimizing produce for flavor, nutrition, and freshness, rather than focusing on producing food that will survive through a long supply chain, Walker says. "We believe this surety of fresh, quality supply is helping to drive interest in controlled environments," he says.
In addition, novel farming systems can also improve food security. For instance, some foods may experience gaps in traditional supply chains, depending on the weather or trade policies in the locations where they are farmed. Some foods are produced only in seasonal cycles or must travel through supply chains that may be fragmented, and its quality may be inconsistent. However, novel farming systems such as indoor farms allow for reliable, localized production of food that is of consistent quality and freshness.
And best of all, "some of these systems are really starting to compete on cost," Walker says. For instance, S2G has an investment in Shenandoah Growers, which is able to provide scaled production to national retailers at competitive prices. "For the retailer that wants surety of supply and ultimate freshness at scale, controlled environments are starting to provide a viable solution," Walker says.