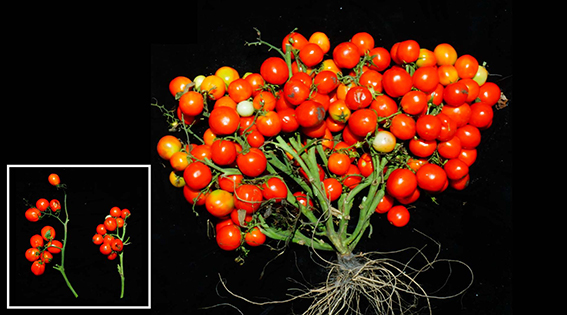 Photo courtesy of Lippman lab, Cold Spring Harbor Laboratory
Picture cherry tomatoes growing in a cluster on a short vine in an urban environment, like the roof of a skyscraper. If the gene-edited tomato plants recently designed by researchers at Cold Spring Harbor Laboratory prove successful, tomatoes and other crops could one day be the stars of city gardens.
Zach Lippman, professor and HHMI investigator who led the lab that designed the tomatoes, says the research team was looking to develop crops suited to environments that are not usually favorable for growing plants. The gene-edited tomato plants designed by his lab resemble a bouquet that features ripe cherry tomatoes instead of flowers. The clustered tomatoes have the advantage of maturing quickly, producing fruit that's ready for harvest in under 40 days. "They have a great small shape and size, they taste good, but of course that all depends on personal preference," Lippman said in a press release.
Lippman and his colleagues developed the crop by modifying two genes that govern reproductive growth and plant size. The modified genes resulted in a tomato plant that stops growing sooner and produces fruit earlier; however, the modifications could only be taken so far before affecting flavor or yield.
"When you're playing with plant maturation, you're playing with the whole system, and that system includes the sugars, where they're made, which is the leaves, and how they're distributed, which is to the fruits," Lippman said.
The discovery of a third gene, which controls the lengths of stems, allowed Lippman's team to complete the picture. Using CRISPR, the researchers mutated the gene and combined it with the mutations in the other two flowering genes. The resulting plant was extremely compact with shorter stems.
Lippman is continuing his work on the technique, which is detailed in a study published in Nature Biotechnology, and hopes other researchers will use it on other fruit crops. He believes that agriculture can benefit from making crops and harvests shorter, adding that "NASA scientists have expressed some interest in our new tomatoes."