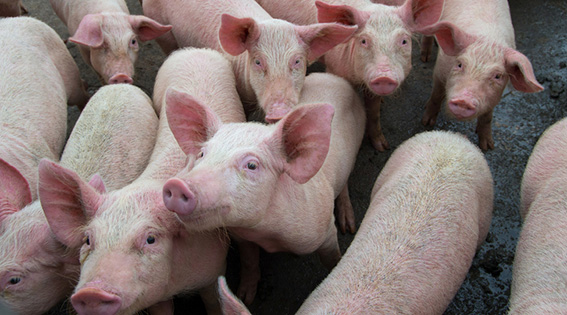 Research scientists at the U.S. Department of Agriculture's (USDA) Plum Island Animal Disease Center in New York developed a new vaccine that may help save the world's pork supply. The results were published in the Journal of Virology.
In recent months, African Swine Fever (ASF) claimed the lives of 300 million pigs in China—half the country's supply, according to The Washington Post. As a result, pork prices have risen by almost 50%. And the disease, which kills infected pigs in less than two weeks, is now spreading throughout Southeast Asia and Eastern Europe. The World Organisation for Animal Health estimated that more than 2.5 million pigs died or culled as a result of ASF between January 2016 and May 2019.
There has never been a known cure or vaccine for ASF, until now. The USDA researchers targeted I177L, a previously uncharacterized gene that is linked to a protein in the virus membrane.
"Our vaccine contains a deletion of gene I177L, and it is the first one to target I177L," says Douglas Gladue, one of the study's co-authors and research microbiologist at the USDA. "And the vaccine is one of the only Live attenuated ASF vaccines shown to experimentally protect against the ASFV-Georgia strain, the strain that is currently circulating in Europe and Asia."
The vaccine is also different from others because it was shown to be 100% effective in early tests. Pigs that were vaccinated with the mutant strain began producing antibodies to fight infection, and all of them remained free of symptoms, even when they were later exposed to the complete virus. In addition, unvaccinated pigs in the group remained free of symptoms, showing that vaccinated animals do not give the virus to their unvaccinated neighbors.
Gladue and his research partners are in the process of licensing their vaccine to commercial partners, but they don't know how long it will take before a vaccine might be available commercially. They hope their research will result in an effective ASF vaccine, which can be used as a tool in "outbreak or endemic situations," Gladue says.
If the vaccine continues to work successfully in further tests, it may help protect the pork supply and the price of ham, sausage, and bacon around the world.