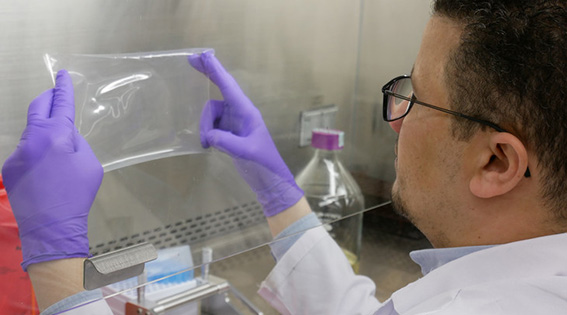 photo courtesy of Penn State University
Researchers at Penn State University developed a composite antimicrobial film that can keep foodborne pathogens at bay and could one day be used to decrease outbreaks of foodborne illness.
The novel composite antimicrobial film is made from a pullulan-based biopolymer and polyethylene and infused with lauric arginate. Pullulan is a water-soluble polysaccharide with film-forming abilities, and lauric arginate is a food-grade antimicrobial that is effective against many foodborne pathogens. In press material available from the university, one of the researchers explained that pullulan film slows the release of the lauric arginate to maintain the continuous activity of the antimicrobial.
The novel composite film can be infused with other antimicrobials; the researchers also incorporated thymol and nisin into samples of the film. They found that lauric arginate was the most effective at controlling the pathogens Salmonella spp., Shinga toxin-producing E. coli, Listeria monocytogenes, and Staphylococcus on samples of raw beef, raw chicken breast, and ready-to-eat turkey breast.
Read more about the development in a study published in the International Journal of Food Microbiology.