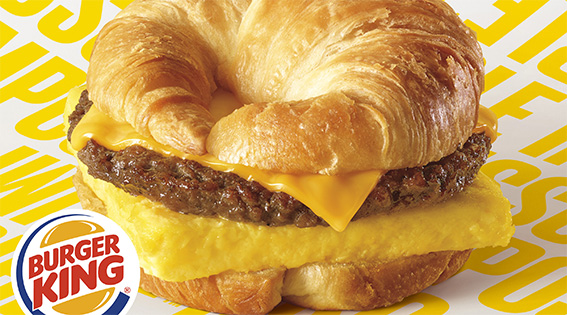 photo courtesy of Burger King
The quest to develop alternatives to animal-derived meat has come a long way since the days of Tofurky and the first cultured beef patty that cost more than $300,000 to produce in 2013. Many companies, such as Beyond Meat, Impossible Foods, and Mosa Meat, began their foray into the meat alternatives space by setting out to replicate and/or mimic beef. Now, even traditional meat companies like Tyson, Smithfield, and Perdue are getting in on the action, introducing lines of plant-based burgers and chicken. And affordable cultured meat is on its way to becoming a reality as companies race to be the first ones to market with their products.
In the past couple of years, cultured seafood has begun to make waves, with companies like BlueNalu, Shiok Meats, and Finless Foods working to produce cell-based seafood such as shrimp, yellowtail, and tuna. These companies, and others like them, appeal to consumers' increasing demand for foods that are not only good for their health but also benefit the planet. With concerns over contaminated seafood and the environmental cost of beef production, it is no wonder that startups are popping up with a slew of alternatives. However, until recently, innovation in the pork alternatives segment has lagged. And now that disease has decimated a chunk of the world's pig population (according to The New York Times, the spread of African swine fever has reduced China's pig herds by 40%), innovation in alternative pork products is sorely needed.
Two companies made news recently for their innovations in pork alternatives. First, the startup company Meatable announced last month that it raised an additional $10 million in seed funding, according to TechCrunch. Meatable has set itself apart from other cultured meat companies in that its focus is on producing pork through cultured cells using a patented single-cell technology. The process enables the company to take one cell from a pig and create both muscle tissue and fat cells that it then claims can grow to produce meat in just three weeks. The new funding will be used to accelerate the development of its prototype, which it aims to have completed by this summer.
In the plant-based alternatives space, Impossible Foods debuted its plant-based pork replacement—dubbed Impossible Pork—at the Consumer Electronics Show (CES) last week. "It's the second completely new product that we're launching," explained Pat Brown, founder and CEO of Impossible Foods, in a video on the company's website. "Beef is popular around the world, but in many cultures the most popular and familiar and common dishes use pork as the main source of meat. So, for us to have an impact in those markets, pork was a necessity. Our mission is to completely replace animals in the food system by 2035, and expanding our impact globally was a critical part of that."
The company, known for its Impossible Burger that is available at restaurants throughout the United States, Hong Kong, and Singapore, will test the Impossible Croissan'wich made with its plant-based pork sausage at 139 Burger King locations in five test cities later this month.