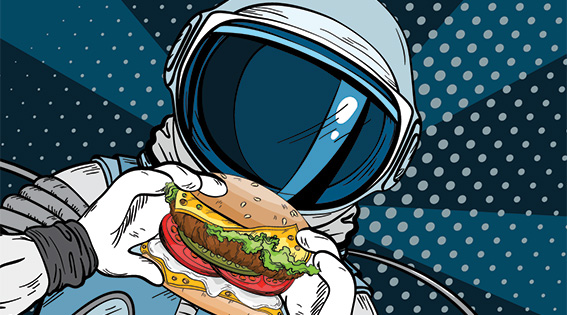 Food scientists at the University of Massachusetts Amherst have demonstrated that an easy-to-use mathematical model can help NASA (U.S. space agency) quickly measure the nutrient levels in foods prepared for astronauts.
The commercial and custom-formulated food that NASA astronauts eat during space missions has been carefully chosen to make sure that they are getting the Recommended Dietary Allowances of nutrients. Retaining nutrients in these foods during long-duration spaceflight missions is extremely important. There was not much known about the degradation of certain vitamins in the food products, so the researchers set out to learn more about this.
The researchers used a novel degradation modeling program and "Endpoints Method" that they developed to examine the degradation kinetics of vitamin B1 (thiamine) in three different spaceflight foods (brown rice, split pea soup, and barbeque beef brisket) during long-term storage at three temperatures. The mathematical model was able to accurately and quickly predict how vitamin B1 degrades over time (two years of storage). They hope that the modeling tool will help NASA as it prepares for long-duration space missions such as a journey to Mars.
Read more about the study, which is published in Food Chemistry, in a press release from the University of Massachusetts at Amherst.