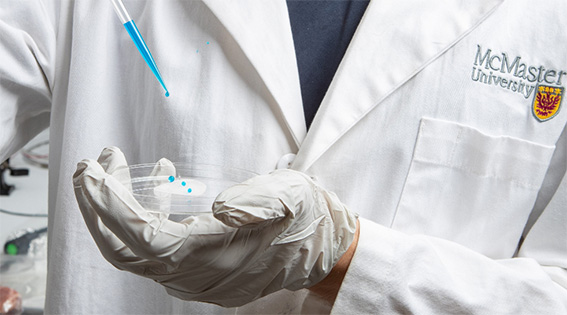 © Georgia Kirkos; courtesy of McMaster University
A nonstick wrap that repels bacteria has potentially valuable food packaging applications, according to the researchers at McMaster University in Canada who developed it.
The self-cleaning plastic surface, which is a specially treated form of conventional transparent wrap, could prevent the accidental transfer of bacteria such as E. coli, Salmonella, and Listeria from raw meat products, the researchers explain. Their work, detailed in a paper published in the journal ACS Nano, uses nano-scale surface engineering to create a product that features microscopic wrinkles "to reduce bacterial adhesion, biofilm formation, and the transfer of bacteria through an intermediate surface."
"We're structurally tuning that plastic," says McMaster engineering physicist Leyla Soleymani in a press release. "This material gives us something that can be applied to all kinds of things." Chemical treatment further enhances the wrap's repellent properties and provides a flexible barrier that is cost-effective to use.
"We see a big application for food packaging. … Using these wraps either on the production tables or the packaging itself could resolve a lot of issues we're dealing with these days in terms of contamination [by] bacteria," says Tohid Didar, an assistant professor of mechanical engineering at McMaster, in a video featured on the university's website.
The researchers also see applications in healthcare facilities, where the film could help prevent the spread of disease via bacterial contamination by being shrink-wrapped to often-touched surfaces like doorknobs.
The researchers say they hope to work with a partner on commercialization of the wrap.