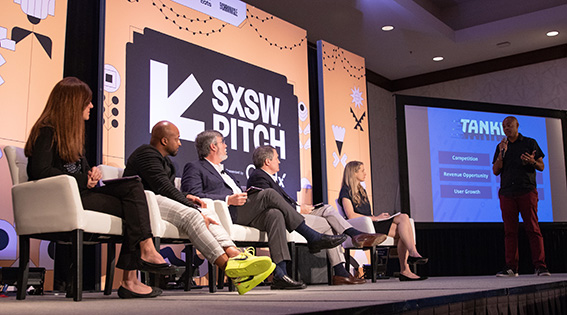 photo courtesy of SXSW
South by Southwest (SXSW) has announced the finalists for its 12th annual SXSW Pitch event, taking place as a part of the startups track happening at the annual event in March. From 900-plus applications, judges narrowed the field to 50 finalist startups—five in each of the 10 technology categories. After two days of live pitch events, which will take place March 14–15, the panel of judges will announce one winner from each group, and one startup will receive the "Best in Show" award.
Among the 50 finalists, five startups tackle challenges in the science of food to deliver solutions to ensure a safe, sustainable, and abundant food supply. These five startups are as follows:
AVA Technologies: The company makes AVA Byte—a patent-pending indoor herb garden that comes equipped with specialized LED lights, an HD camera, environmental sensors, and a four-week water reservoir. AVA's soil-free plant pods are pre-seeded in plant-based fibers that contain plant-specific nutrients and are sold in packs of five herbs. The consumer can scan the pack's QR code to enable the Byte to know what is growing and adjust the lights and water accordingly. The AVA Smart Garden app allows the user to monitor the growth and water level in the reservoir.
Canadian founders Valerie Song and Chase Ando worked in food marketing and as a chef, respectively, before teaming up to create AVA with the mission to bring fresh food into homes around the world. The company is taking preorders and plans to ship beginning in February within the United States and Canada. It aims to ship internationally by 2021.
EasyKale Labs: While working toward his master's degree in medical sciences, Bilal Qizilbash discovered juiced leafy kale might be able to kill melanoma cancer cells in vitro. The findings led to a U.S. patent (9919016: "Product and method of deploying kale derivatives for anti-cancer effects") and an idea to make it easier for people to add kale to their daily diet. He developed EasyKale, a virtually tasteless powdered form of kale that can be sprinkled onto foods.
According to the company, one tablespoon of EasyKale is equal to four cups of leafy kale. The product is dehydrated via a process that minimizes the flavor profile while maintaining nearly all the nutrition and bioactivity of leafy kale. The EasyKale Shaker can be purchased on Amazon and is the first in a series of products that EasyKale Labs intends to bring to market.
FAVES: Amy Keller, Kevin Wall, and Susan Smalley founded PurePlus+ with this goal, according to the company's website: "to provide a world of malnourished yet overfed individuals with key nutrients provided by the very fruits and vegetables being wasted every day." The first product developed by the company is FAVES—"healthy" candy wafers made using imperfect fruits and vegetables. To ensure the vitamins and minerals are not lost during processing, the company doesn't heat the ingredients past a specific temperature.
Sweetened by monk fruit, a 20-wafer pack of FAVES contains only 1 gram of added sugar. Each pack contains Lemon Lime, Strawberry, and Orange flavored 2-calorie wafers. Currently, the company is taking preorders on its website.
Milis Bio: The Irish company got its start in early 2016 in the RebelBio accelerator program run by SOS Ventures and honed its business model and network in the Startupbootcamp FoodTech program and later in the University College Cork IGNITE incubator program. Milis Bio has set out to address the global obesity epidemic by developing new low-calorie flavor ingredients derived from proteins. According to the company's website, the ingredients designed by its technology "will be low calorie and naturally digested proteins, designed bespoke to the needs of each customer."
Currently, Milis Bio is working on a proof of concept sweet protein but plans to adapt the technology to produce different flavors in the future. In September 2019, the company announced that it secured a partnership with Bimbo Ventures, the corporate venture capital arm of Grupo Bimbo. The Mexican multinational bakery will assist Milis Bio with technical and commercial development support and, in return, have exclusive use of the Milis Bio ingredient.
Plantible Foods: With the demand for plant-based proteins on the rise, Plantible has entered the scene with a new protein ingredient extracted from lemna, commonly known as duckweed. The small aquatic plant contains RuBisCO (ribulose-1,5-bisphosphate carboxylase oxygenase) protein, which the company claims is more digestible than pea, soy, or algae. Grown in U.S. indoor aqua farms without the use of pesticides, Plantible's lemna doubles in mass every 48 hours, making it possible to harvest it daily.
The harvested biomass undergoes a proprietary cold-press extraction process that produces an organic white protein ingredient. The method enables the extraction of lemna's grassy flavor, leaving behind a colorless, flavorless, and odorless protein that can be used in many formulations and offers the added benefit of functionality comparable to egg whites. Plantible's cofounders Tony Martens and Maurits van de Ven have been working to validate its protein ingredient and plan to sell it to food and beverage manufacturers later this year.