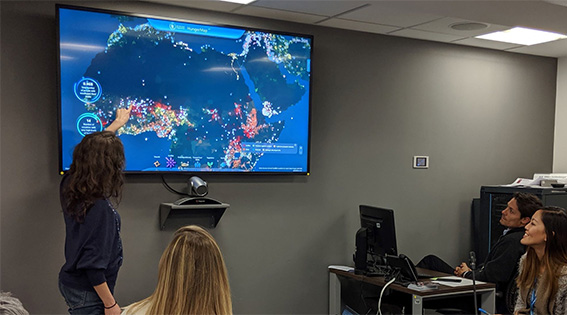 Hunger Map LIVE | photo courtesy of WFP
The United Nations World Food Programme (WFP) recently announced the five winners of the 2019 WFP Innovation Challenge, which awards funding, recognition, and support to WFP employees, startups, and entrepreneurs revolutionizing how the problem of global hunger is addressed. Since launching in 2016, the WFP Innovation Accelerator has supported more than 50 solutions to disrupt hunger, eight of which are now scaling up in multiple countries around the globe.
"WFP is full of smart people with game-changing ideas," said David Beasley, WFP executive director, in a press release. "The winners of this year's Innovation Awards show how WFP is leading the pack in developing new ways to save lives, change lives, and get us to Zero Hunger.
The 2019 Innovation Challenge winners are:
Hunger Map LIVE
Developed in partnership with Alibaba Cloud, Hunger Map LIVE is WFP's new Global Hunger Monitoring System, which provides "near real-time estimates of the food security situation in over 90 countries," according to the press release. It uses key metrics—food security information, weather, population size, conflict, hazards, nutrition information, and macro-economic data—and a machine learning–based predictive model to estimate the prevalence of acute food insufficiency. This information is displayed on an interactive world map, enabling government decision makers, emergency response teams, and the broader humanitarian community to monitor and visualize the severity and scope of hunger in over 90 countries.
She Can
She Can empowers the mothers of children enrolled in school meal programs by providing them with financial training and microloans to start a small business or grow an existing one. With support from the government, the project has completed a successful pilot in which it trained more than 53,000 mothers in designing, implementing, and managing income-generating activities. The program also provided microloans to 13,000 women, which enabled them to increase their incomes by 30%–50%. Work is underway to expand the She Can program to other countries.
Drones to the Rescue
During last year's deadly cyclones that hit Mozambique, the WFP deployed drones to help rescuers respond faster and more efficiently. The organization used the thousands of images collected from the drones to create detailed maps for affected villages and towns, which helped more than 20 humanitarian organizations deliver aid where it was needed most.
School Connect
Even when children are enrolled in school feeding programs, they sometimes go hungry due to depleted food stocks resulting from outdated data. School Connect digitizes data entry for stock inventory, student attendance, and meal consumption for school feeding programs to improve supply chain planning and nutritional intake. The web-based solution is being tested in 20 schools in Burundi and will scale up to 820 schools this year.
Retail in a Box
Retail in a Box is a retail turnkey solution that facilitates the access to essential goods during times of natural disasters or conflict, which can destroy retail infrastructures. The program accelerates the recovery and development of local markets. The customizable package provides shop infrastructure and layouts, check-out systems, retail operational guidance, and capacity-building support. Retail in a Box is planning to run pilots in Cox's Bazar, Bangladesh, to validate its model and prepare for scale.
Startups with solutions to end hunger are encouraged to apply to the WFP's Innovation Accelerator throughout the year.