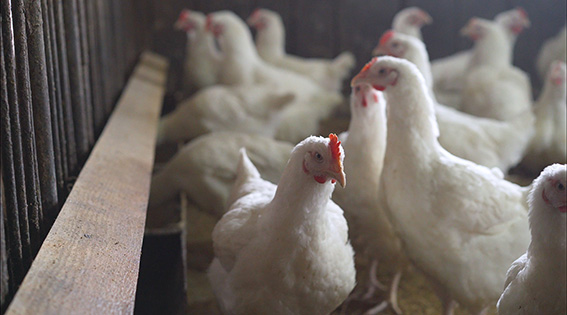 Wooden breast syndrome is a muscle-quality disorder that affects only broiler chickens, rendering their pectoral muscles (i.e., breast meat) tough and chewy. The condition is hindering farmers' ability to meet the rising demand for broiler meat. Scientists at the University of Delaware (UD) have made progress in finding the cause of the disorder and a way to manage it.
Every year, wooden breast syndrome affects a considerable number of broilers, which takes a substantial economic toll on the poultry industry. Meat affected by the disorder is nearly impossible to detect visually, but deteriorated organoleptic properties are obvious, making broilers with wooden breast syndrome unmarketable. Behnam Abasht, associate professor at UD, and his research team have been working on determining the cause of wooden breast syndrome and how to detect and manage the disorder. They recently published a study in Scientific Reports that suggests that wooden breast syndrome is caused by the abnormal metabolization of fat in the pectoral muscles of broilers. These muscles usually rely on the metabolization of glucose (glycolysis) for energy, not the metabolization of lipids.
The researchers theorized that in some broilers, the pectoral muscles' utilization of an unusual energy pathway (i.e., metabolizing fat instead of glucose) may cause a higher than normal presence of free radicals that can damage the muscle. In response, a broiler's immune system tries to correct the problem, leading to tough breast meat. The best way to detect this problem early in broilers would be to test for elevated levels of lipoprotein lipase (an enzyme that regulates lipid metabolism) in their blood.
An unexpected benefit of the researchers' work is that their findings may translate to a complication of type 2 disease in humans. As the researchers continue to investigate ways to abate wooden breast syndrome, their discoveries may have relevance in managing diabetic cardiomyopathy, which exhibits similarities to wooden breast syndrome and involves molecular and structural abnormalities in heart muscle.