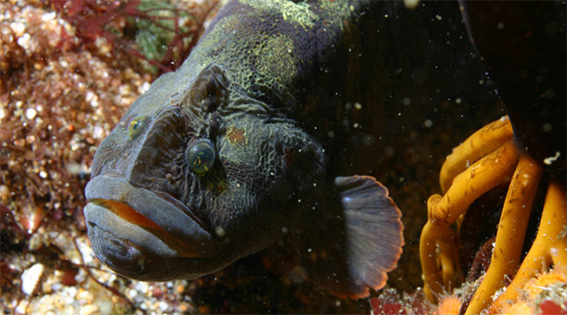 Photo courtesy of NOAA/MBARI
The discovery of an unusual fish that sustains itself by consuming a vegetarian diet of specialized algae holds promise as a more sustainable source of dietary protein for humans. While studying the fish, known as the monkeyface prickleback, researchers at the University of California, Irvine, made new discoveries about the genes necessary to break down plant material.
Investigators Donovan German, associate professor of ecology and evolutionary biology, researcher Joseph Heras, and their colleagues were intrigued by the low level of lipids in the diet of the fish, whose digestive system is akin to that of humans. Lipids are an essential component of a healthy diet for all living things, and after sequencing the genome of the monkeyface prickleback, the scientists discovered a mechanism in the digestive system that allows the fish to efficiently break down lipids, which comprise only 5% of the algae's composition. "It is a compelling example of what we call 'digestive specialization' in the genome," said German in a university press release.
The discovery, detailed in a study published in Proceedings of the Royal Society B, could hold implications for aquaculture as a way to produce an animal-based protein in a sustainable manner.
"Using plant-based food ingredients reduces pollution and costs less," said Heras, the paper's first author, in the press release. "However, most aquaculture fish are carnivores and can't handle plant lipids. Sequencing this genome has provided us a better understanding of what types of genes are necessary for breaking down plant material. If we scan additional fish genomes, we may find omnivorous fish with the right genes that could provide new candidates for sustainable aquaculture."
In recent years, the monkeyface prickleback, which can grow to a length of three feet and weigh as much as six pounds, has gained a following among those seeking culinary delicacies, with a taste German describes as "delicate and mild."