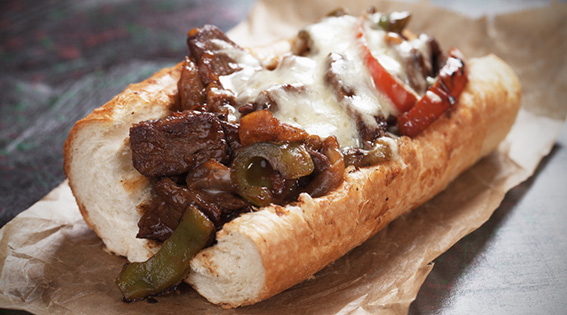 In the City of Brotherly Love (Philadelphia), the popularity of the Philly cheesesteak is rivaled perhaps only by the popularity of Rocky Balboa. Yet Philadelphia's favorite food is a contributing factor to the alarming number of the city's residents with high blood pressure. Food and culinary researchers at Drexel University recently developed a food product that helps Philadelphians continue to enjoy cheesesteaks without guilt.
Although sodium is essential for the human body to function properly, too much of it is harmful to human health. Most Americans' intake of sodium—usually in the form of salt—is too high, which can lead to high blood pressure. Upon learning that 33% of adult Philadelphians have high blood pressure (a risk factor for heart disease), the city of Philadelphia implemented new nutrition standards for foodservice meals and snacks. Purveyors of cheesesteaks were having a hard time coming up with a formulation for the hoagie roll that would meet the taste expectations their customers had come to expect.
Hoagie rolls and other breads are commonly a significant source of sodium/salt in the diets of Philadelphians and other Americans. But reducing the salt content of hoagie rolls was not a simple endeavor as doing so would affect not only the taste of the rolls but also their texture. A culinary innovation team lead by Drexel professor Jonathan Deutsch developed a whole-grain, low-sodium hoagie roll that tested well with cheesesteak consumers. The new roll contains only 210 mg of sodium, which is 70 mg less than Philadelphia's sodium standard for foodservice meals.