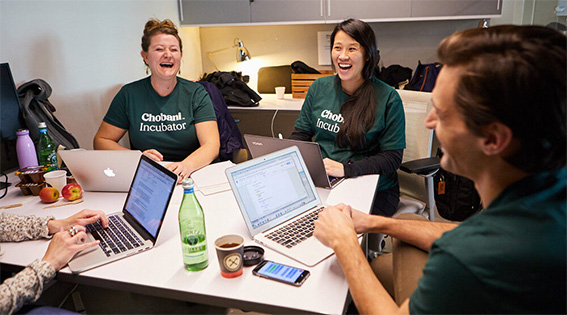 photo courtesy of Chobani
Chobani and PepsiCo have announced the members of their respective spring 2020 incubator programs—a total of 18 food and beverage startup companies.
The sixth Chobani Incubator class to date is made up of eight food startups that are disrupting and improving high-potential food categories in the United States. The program provides equity-free investment and a strong focus on mentorship. The incubator class is a three-month program consisting of guest speakers, workshops, mentor rotations, and more based out of a dedicated space designed for the incubator at Chobani's sales and marketing offices in New York City.
The Chobani Incubator's sixth class is made up of the following eight companies:
PepsiCo has announced the 10 finalists in its second North America Greenhouse program, an initiative designed to support emerging entrepreneurs and brands in the food and beverage industry. The startups are granted $20,000 in funding and will participate in a six-month business optimization program designed to accelerate growth. The program includes personalized mentorship with experts across PepsiCo functions and from some of its emerging brands, such as Stacy's, IMAG!NE, and KeVita, to help address critical early-stage business operations like strategic planning, corporate structuring, and fundraising. Guidance on brand optimization, product development, supply chain management, customer acquisition, and distribution will also be provided.
At the end of the program, one startup will be awarded an additional $100,000 in funding to continue its expansion and an opportunity to continue partnering with PepsiCo to further its growth.
The 10 finalists in PepsiCo's Greenhouse program are as follows: