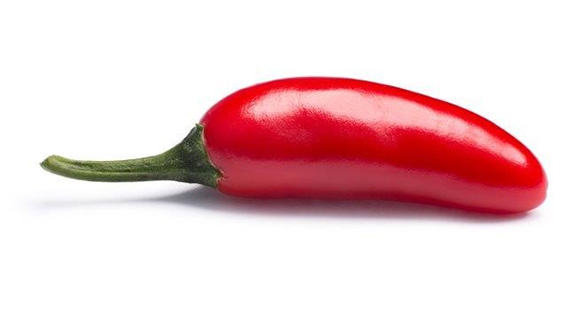 New research into the accumulation of two important compounds in chili peppers may help plant breeders understand what contributes to the increasing and decreasing levels of these compounds as chili peppers develop and could also provide insights into the development of food ingredients.
Capsaicinoids are responsible for the heat in chili peppers, while related compounds called capsinoids are much less pungent. Previous research has found that both may have important health benefits.
The team of researchers from Spain and Mexico analyzed the levels of capsaicinoids and capsinoids in three types of chili peppers: chiltepin and tampiqueño 74 (two spicy chili peppers from Mexico) and bhut jolokia (an extremely hot chili pepper from India). They grew the chili pepper plants and collected the chili peppers at different stages of the peppers' development. They found that the levels of capsinoids in the three chili pepper varieties increased and decreased similarly over the course of the testing period. The increase and decrease of capsaicinoid levels of the chiltepin and tampiqueño 74 peppers followed a similar pattern as the capsinoids, but the actual levels of the capsaicinoids were greater. The capsaicinoids in the bhut jolokia peppers began to accumulate earlier in the testing period compared with the other two peppers.
Read more about the research in a study published in the Journal of Agricultural and Food Chemistry. A press release is provided by the American Chemical Society.