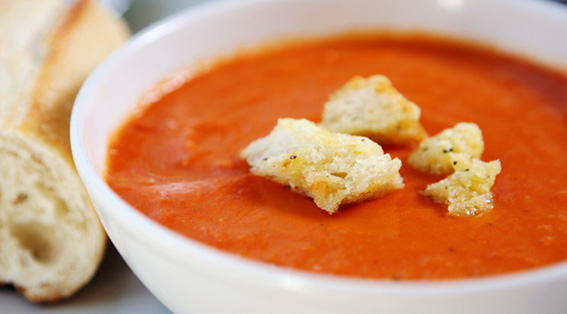 Canned soup is a convenient food but is often criticized for its high levels of sodium, and in the cases of cream-based versions, for its high levels of fat. Reducing sodium and fat in canned soup is challenging, as doing so affects how much consumers like the product. Researchers at the University of Illinois at Urbana-Champaign determined drivers of liking when sodium, fat, and herb levels are varied that could be used in reformulation efforts.
"Targeting both sodium and fat reduction in processed foods while maintaining consumer acceptance is a challenge in the food industry due to the innate liking by humans toward both ingredients," wrote the researchers in the study, published in the Journal of Food Science.
The researchers formulated 24 creamy tomato soup samples with four fat levels (free, low, reduced, and regular), three sodium levels (low, reduced, and regular), and two herb levels (with and without). The herb blend was fresh rosemary, fresh basil, and fresh thyme. The researchers had 96 subjects rate the soups for overall liking on a nine-point hedonic scale and had 10 trained panelists participate in a descriptive analysis of the samples.
The researchers found that sodium was one of the major drivers of linking in soups no matter what the fat content was. They also learned that the herbs were also a driver of overall liking of the lower sodium and fat soups.
"Identifying drivers of liking when sodium and fat levels are reduced in processed food systems can assist in product reformulation to increase overall liking. Additionally, understanding the impact of herbs in consumer acceptance of lower sodium and fat food products will also contribute to further advances in product development," wrote the researchers.