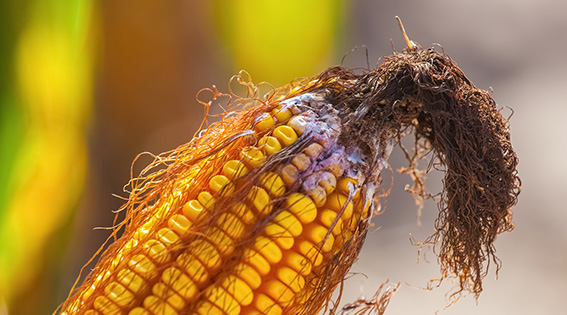 For as long as humans have been growing food crops, pests and pathogens have been attacking them. Despite the numerous pesticides that have been developed to combat pests and pathogens, they somehow adapt and become immune. For one fungal pathogen, scientists in the United Kingdom have figured out a way to use its own biology to prevent it from destroying crops.
Aspergillus fungi are a group of molds that can wreak havoc in a variety of environments, including agriculture. Interested in finding ways to prevent Aspergillus from reproducing in clinical settings, scientists at the University of Bath conducted a study on Aspergillus nidulans, a food mold that closely mimics an Aspergillus species that is problematic to immunocompromised individuals. The researchers determined that the mechanisms through which Aspergillus nidulans reproduces—G-protein coupled receptors—require specific conditions to allow reproduction and toxin production: food and lighting. In essence, without sugar and darkness, the G-protein coupled receptors of Aspergillus nidulans refuse to reproduce sexually.
Aspergillus fungi reproduce sexually by producing spores and exchanging them with each other, creating hearty, genetically diverse offspring that have a much better chance of acclimating to new environments and evolving to resist antifungal efforts. Aspergillus fungi can also produce asexually, but asexually produced spores are not as successful at adapting to antifungal methods.
The study's scientists believe their findings will have positive implications for improving crop development and agricultural antifungal compounds as well as clinical research.