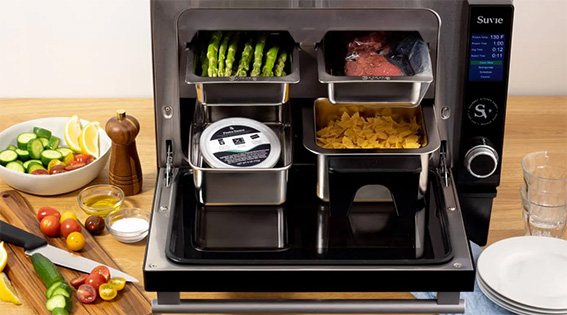 photo courtesy of
Suvie
Before the emergence of SARS-CoV-2 (COVID-19) and stay-at-home orders, one of the biggest complaints of busy individuals was not having time to prepare and cook balanced meals. A new appliance shows promise in solving that problem—for those who can afford it.
Suvie is a smart countertop appliance that refrigerates and cooks an entire meal. The name comes from the method it uses to cook food: sous vide—a French cooking technique in which food is cooked while encased in a pouch and immersed in water. Suvie has four compartment zones for each meal component—vegetables, protein, starch, and sauce. And each compartment zone is independently temperature-controlled, allowing each vacuum-sealed meal component to be refrigerated, stored, and cooked separately.
The appliance is fully programmable to allow each component of the meal to finish at the time a user wants to eat. In addition, the appliance has an optional broiler, which enables users to brown proteins and/or vegetables and gives them the look and flavor of roasting. Moreover, users can prepare meals with either the groceries they purchase or prepackaged Smart Meals available via meal plans that users can purchase weekly or monthly. Suvie sells for $1,199; prepackaged food/meals are sold separately. It is not clear whether recyclable vacuum-seal pouches needed to cook user-provided food are included with the purchase of the appliance or must be purchased separately.