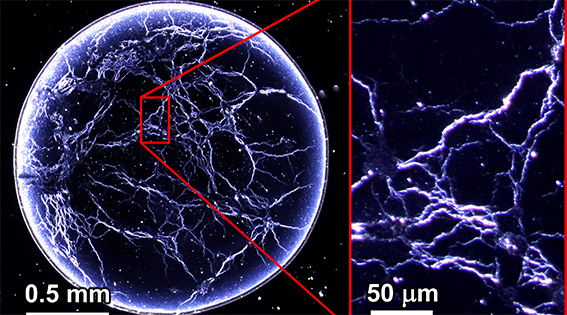 A drop of American whiskey evaporated to form a distinctive weblike pattern of solutes.
Source:
Adapted from
ACS Nano
2020, DOI: 10.1021/acsnano.9b08984
Whiskey webs—the web-like pattern that forms when drops of whiskey dry up—might be used to identify counterfeit American whiskey, according to a study published in ACS Nano.
The researchers explained that when droplets of a complex mixture evaporate, the nonvolatile components that remain may form various patterns. This phenomenon is referred to as the "coffee ring effect," and it is something that scientists have studied for quite some time. The pattern depends on what the liquid is and what its components are. Previous research has shown that when diluted drops of various brands of American whiskeys dried on a glass surface, they formed web patterns, according to an American Chemical Society press release.
The current study went further into the characteristics of the whiskey webs and, through digital image analysis, found that each of the whiskey webs from the various brands of American whiskeys was unique. "In summary, the results reported here show that whiskeys are chemically complex liquids whose chemical profiles not only distinguish each product but are also responsible for the uniqueness of each product-specific pattern of deposits from drying droplets," wrote the researchers. They added that the method to analyze the distinct web patterns "could be used for sample analysis and counterfeit identification."