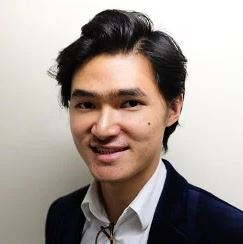 Amadeus Driando Ahnan, as you can probably tell from that quote, thinks big. A student at the University of Massachusetts, Amherst (UMass) and an IFT member, Ahnan has a dream of feeding the developing world with affordable protein. Ahnan is one of dozens of future food scientists whose academic careers are aided by scholarships from Feeding Tomorrow, the Foundation of the Institute of Food Technologists.
With registration now open for Feeding Tomorrow's annual Fun Run + Fitness event, whose proceeds go toward helping students like Ahnan, we asked Ahnan to share his inspiring story with Brain Food:
I grew up in Indonesia, and I saw how difficult it is for people in rural areas to live with good enough protein to support their lives. It just happened that I have the privilege of education and am pursuing a degree in food science at UMass.
Combined with my own experience and what I have witnessed with my own eyes in Indonesia, I would say my life mission is to give people access to a nutritious and affordable protein source in the form of tempeh, a fermented soy product.
I have taken a huge risk in going to the U.S. for school by having a student loan. It was not a small amount, but I knew it was the right decision to make because of the opportunities offered by (UMass). The Feeding Tomorrow scholarship has been a huge help to me not just financially, but it allows me the freedom to start pursuing my life mission. Thanks to the Feeding Tomorrow scholarships, I can do things like competitions at IFT and at Cambridge, where my team and I were fortunate to come in first place in both. (I also ran the New York City marathon last year wearing a "I Run for Tempeh" t-shirt last year!) With financial support from the Feeding Tomorrow scholarship, I can start pursuing this life mission without waiting until I get a fulltime job.
The Feeding Tomorrow Fun Run is a very powerful activity, because it really is one of the core ways that the Foundation gathers the funds to support more people. It's just amazing to see the effort that Feeding Tomorrow does to gather the support to help more student finish their studies and take more risks to develop their careers. And then to be directly involved (this year) in developing the Fun Run event is very fun. In the bigger picture, it's very inspiring.
This is not just a Fun Run and Fitness challenge. This is about supporting the future of our profession.
Registration is now open for the 2019 Fun Run + Fitness event. If you would like to participate—either from the comfort of your home or in person at IFT19—click here to learn more.