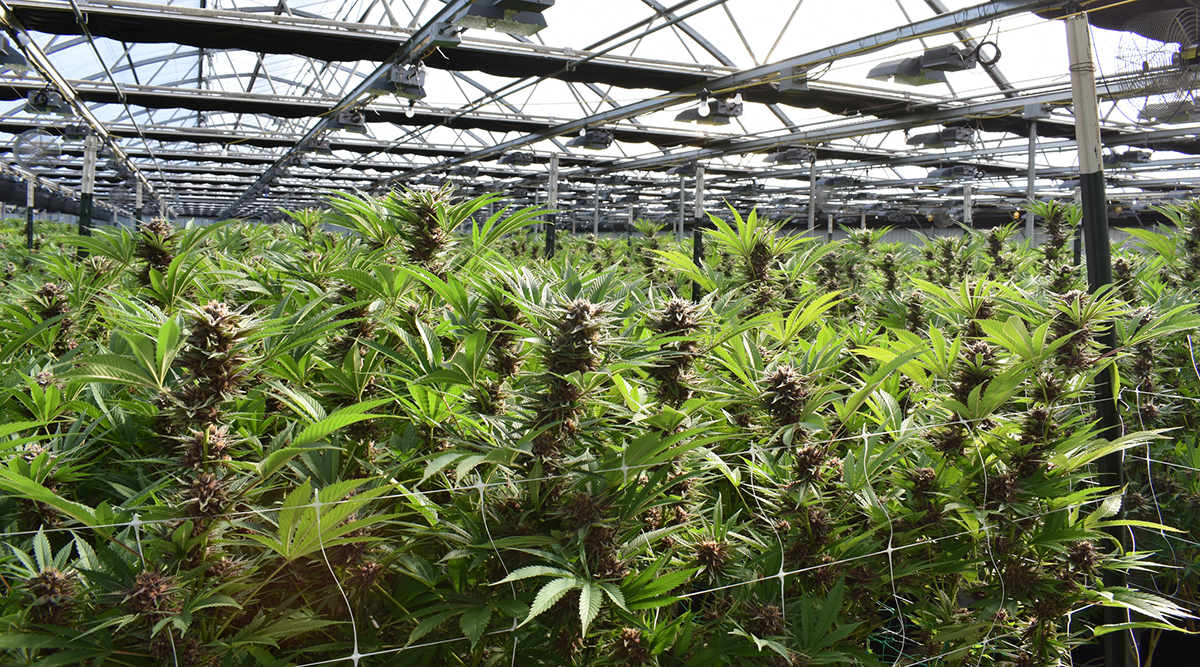 One of the fastest-advancing sectors in indoor agriculture is also one with a bit of a cloud around it: cannabis. There already are dozens of controlled environment agriculture (CEA) pot-growing facilities in the handful of states where recreational marijuana use has become legal, including Ultra Health in New Mexico, where there's a facility of more than nine million square feet, and Copperstate Farms in Arizona, which nearly tops two million square feet.
"It's such a high-value crop that they make enough money to invest in indoor ag," says venture capital investor Brett Brohl. "Small-percentage gains will yield a lot in terms of returns, and you can afford to pay for the technology."
In Michigan, for instance, a state full of tech centers and industrial facilities, Pleasantrees' marijuana growing and processing operation is as sophisticated an operation as one can find. The multiphase facility is in an unremarkable structure about the size of a Walmart, but Pleasantrees' nondescript exterior belies the highly calibrated agricultural engineering wizardry on the inside. Pleasantrees' complex of facilities cost about $25 million to build, and it's harboring and monetizing tens of millions of dollars of marijuana every year.
"I talked to the best engineers about systems that weren't used for growing cannabis and told them I needed them to apply this to cannabis," says Randall Buchman, CEO and founder of Pleasantrees. "A lot of this technology is similar to what you need for indoor tomato farming."
But growing, harvesting, and processing cannabis to granular expectations is much more demanding than growing choice vegetables, which was apparent on a recent tour through the facility. "Companies are destined for failure if they don't know what data to collect," Buchman says.
White lab coats are mandatory for visitors, and everyone who enters the operative part of the facility must go through an airlock that takes a couple of minutes to vacuum away all the hairs, crumbs, and other personal detritus that have settled on each individual.
The operation is divided into several huge rooms and some smaller ones, all fed by networks of pipes and conduits. The huge rooms each house dozens to hundreds of marijuana plants of different varieties, with growing conditions in each—light, temperature, airflow, moisture—kept optimal and delivered precisely, mimicking changes that would occur outside throughout the day and the growing season.
"Crop steering is so important," Buchman says about how Pleasantrees uses data to optimize crops. "Just a 10% difference in yields means millions of dollars" in unrealized revenues, "even in less than a year."
Racks of marijuana flowers, inventories of hundreds of thousands of dollars at a time, hang in drying rooms where they spend about 10 days. Once they're dried, the flowers move into a living-room-size space occupied by about 20 people whose sole task is to use tiny scissors to trim the flowers into the usable and saleable portions. The strains have names like Açai Mint and Apples and Bananas. "The worth of the flowers depends on the strain, its quality, and potency," Buchman says.