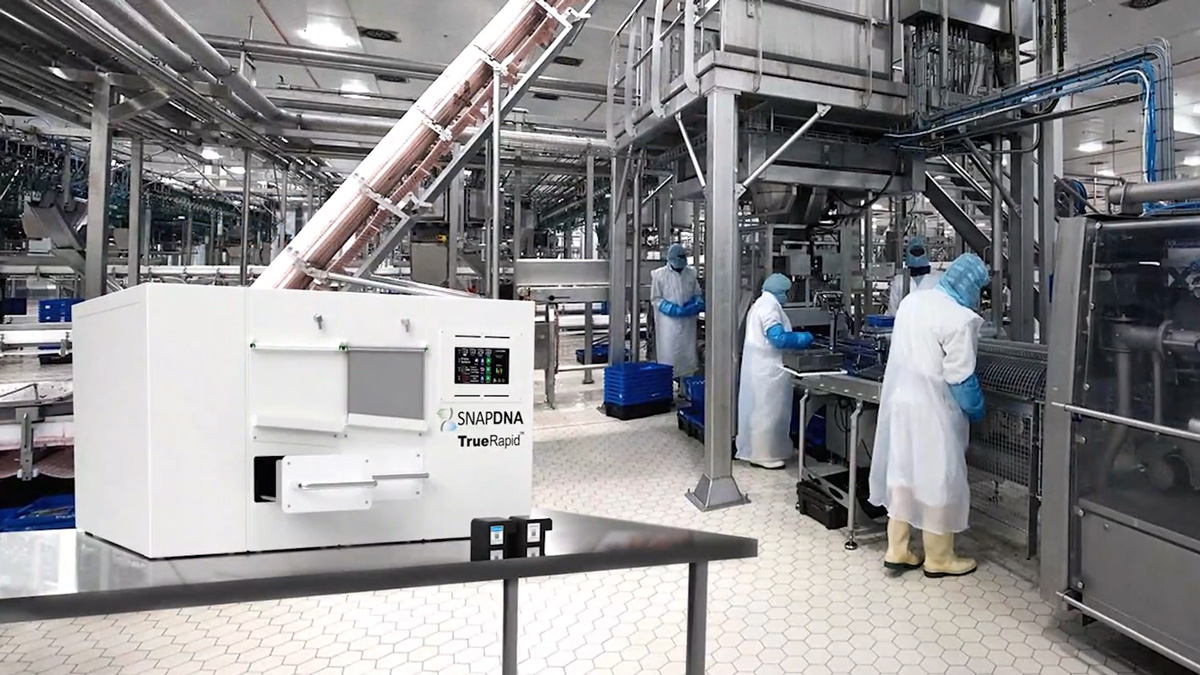 SnapDNA, creator of a rapid pathogen detection system for food processing facilities, clinched top honors and a $25,000 prize as the winner of the IFTNEXT Food Disruption Challenge™ Pitch Competition, held Wednesday during the FIRST virtual event.
A panel of five judges chose SnapDNA from a group of three finalists, all of whom took to the virtual stage to present their pitches and answer questions from the judges.
The SnapDNA system is "push-button simple," Tom Jacobs, vice president of sales and marketing, told the judges and the audience. "Our system can be operated almost anywhere by almost anyone. We compete with and replace food testing labs for both routine daily testing and for tracing contamination.
"We are deeply honored to be recognized by the IFT community for the work that we have done and for the recognition that our tech is truly disruptive," said Jacobs after learning of SnapDNA's win.
What makes SnapDNA's on-site testing system unique, Jacobs explained, is the fact that "we target and capture only live cells in real time from large, dirty food industry samples. Pathogen RNA is analyzed in a fully automated process—20 minutes, sample to answer."
Seaweed technology company Trophic won the $5,000 People's Choice Award, with voting conducted in a follow-up survey of those who viewed the Food Disruption Challenge.
Trophic is working to scale up seaweed production and to help commercialize seaweed as a protein ingredient that is cost-competitive with other alternative proteins.
"Our company is developing the technology to make the ocean the most abundant, low-cost, and climate-friendly source of protein on the planet," said CEO Beth Zotter in her pitch. Protein from seaweed is eco-friendly because it requires no land or fresh water to produce it, she said.
Trophic has developed a plant-based bacon prototype made with protein from red seaweed and hopes to fund its launch with a $2.5 million seed round.
Rounding out the group of finalists in the Food Disruption Challenge was Ripe Revival, which uses patented technology to convert fruit and vegetable waste into healthful ingredients and food products, including nutrient-dense gummies and shelf-stable aseptically packaged beverages.
Co-founder and CEO Will Kornegay said Ripe Revival has the license to a family of patents that covers extraction and microwave-assisted processing, which allows the company to "quickly isolate nutrients, extract them from biomass, and create a protein polyphenol matrix that acts as the key ingredient" in its products. The company sources its ingredient from byproducts of fruit and vegetable processing.
Claire Schlemme, CEO of upcycled food company Renewal Mill and winner of IFT's inaugural Food Disruption Challenge, hosted this year's program.
For Renewal Mill, participation in the Food Disruption Challenge was "a truly transformative experience," Schlemme said, noting that the relationships and connections the challenge fostered continue to be valuable to her company. "The community around this event is quite remarkable and one of the reasons we're so grateful for our own participation three years ago."
Food Disruption Challenge judges included Jagruti Bhikha of RiseTogether VC, Joe Light of Food Loving Ventures, Jeff Grogg of JPG Resources, Tracy Landau of MarketPlace, and Natasha Dhayagude of Chinova Bioworks.
Launched in 2018, the IFTNEXT Food Disruption Challenge is designed to help emerging and investment-ready food companies raise their profiles and make strategic connections. The competition is open to food science/technology companies that provide innovative solutions throughout the food supply chain, including ingredients, processing, packaging, testing, and more.
---
Registration for FIRST provides access to the on-demand library of sessions through Dec. 31, 2021.