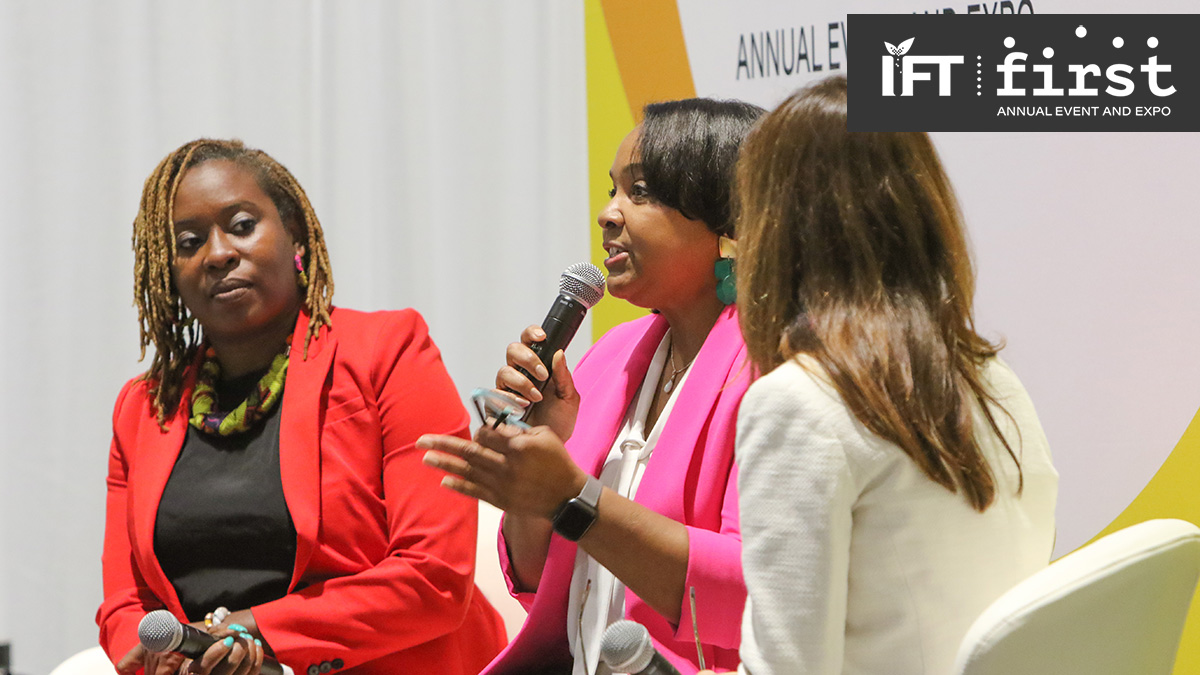 When it comes to diversity, equity and inclusion, actions speak louder than words, according to the panelists who participated in Monday's session, "State of The Profession (Part 2): Unlocking Excellence through Inclusion in a Diverse Team."
Panelists Kristen Anderson, vice chair at European Women on Boards and former chief DEI Officer at Barilla, Carla Kupe, gender and racial equity program director at YWCA, and Sherri Dublin, vice president, DEI, culture and communications at Ingredion Inc., told FIRST attendees that it was not enough to compile survey responses; DE&I initiatives must be embedded in corporate culture.
"The best practices are to listen in all levels: listen via surveys, listen via focus [groups]…get some numbers," Anderson said. "Then, you've got to do something with it. People want to see actions; they want to see improvements."
Instead of focusing on one thing, Anderson suggested mobilizing multiple levers to make people feel listened to and included. "If this was an easy business problem, we would've all solved diversity and DEI many years ago," she added.
"Solving" DE&I is top of mind for companies, especially during the Great Resignation.
Kupe noted that many companies don't conduct exit interviews to capture the reasons people are leaving, which could be related to a lack of DE&I in the workplace.
"In our talks with folks in the affinity groups and [employee resource groups] and so forth, it's usually a culture where things like microaggressions going unaddressed [that leads employees to quit," Kupe explained. "Most workplaces only jump in if there's a big disciplinary issue, but not all the things leading up to it."
The panelists agreed that the pandemic shone a lens on these issues and highlighted the importance of DE&I in the workplace.
Dublin noted that studies showed that workers who were Black, Indigenous or People of Color (BIPOC) preferred virtual work because it freed them from the microaggressions experienced in the workplace. The experience, she adds, should move companies toward action.
"The strategy is around having conversations with your employees and hearing from them … and not judging and making sure that [the] organization has policies and practices that are equitable when it comes to performance [and] hiring practices [and] where you really have to lean in and say, 'is my organization adopting best practices?'" said Dublin.
The panelists acknowledge that changing culture and incorporating DE&I practices in the food industry will take time. Anderson believes success lies in taking a scientific approach and tackling it like a business problem with metrics, accountability, and plans.
"You wouldn't have a big project to launch a $10 million new pasta line and not have [key performance indicators] and not have accountability and deliverables—and that's the exact same way it should be with diversity, equity, and inclusion," said Anderson. "It's a matter of really focusing on the progress, the steps, and thinking along the way about where bias could come into play."
Dublin echoed the concept of treating DE&I as a business issue that requires gathering data, assessing information, and building an action plan to address gaps with people, policies, and programs, as the essential elements for tackling the issue. Her message: Putting DE&I front and center in an organization is essential for change to occur.
"Diversity, equity, and inclusion cannot be something that's considered a sidebar," said Dublin. "If we were to approach it [like a business issue], then I think we could see an acceleration and including all the voices around the representation in the food science industry."