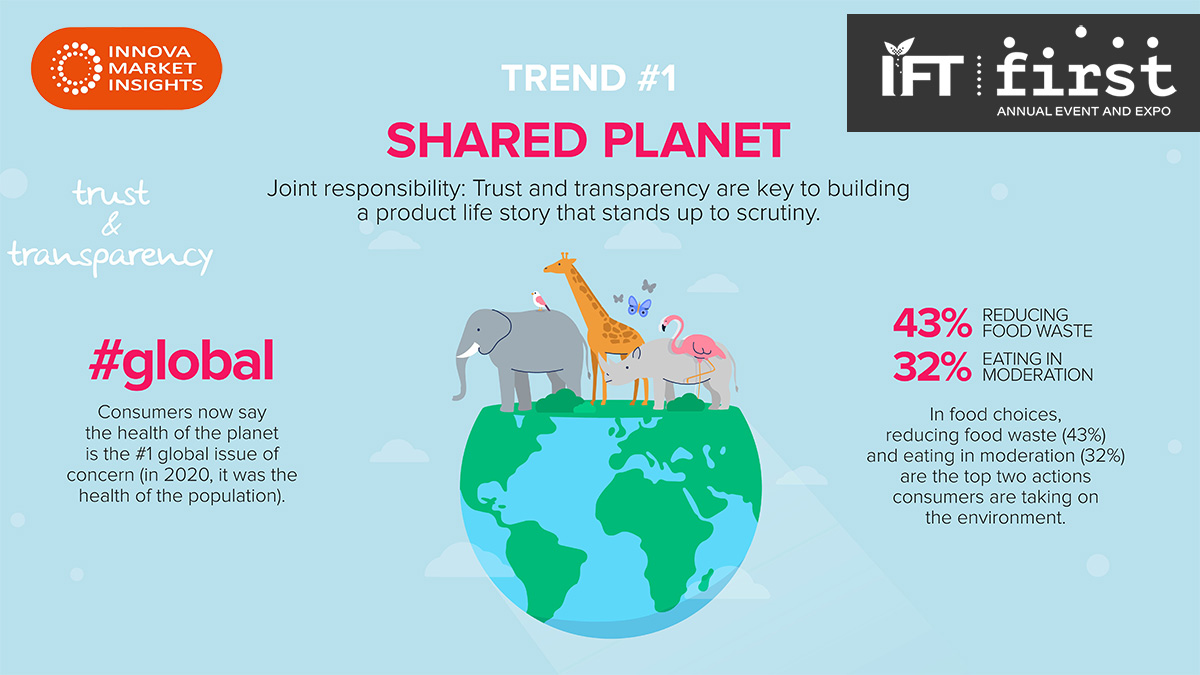 Consumers' concerns about the health of the planet surpassed concerns about the health of the population for the first time in Innova Market Research surveys, prompting the food trend specialists at the company to designate "Shared Planet" as No. 1 on its list of Top 10 Trends for 2022.
"People watched the world burn and flood during the lockdown, and it continues," says Innova Insights Director Lu Ann Williams. "And anyone with Gen Z kids most likely hears about their concerns about the environment. There are cues and reminders everywhere about consuming less, buying secondhand, and recycling old clothes. It is a constant reminder to think about global issues."
The "Shared Planet" trend continues a pattern of consumer emphasis on trust and transparency that's been apparent for several years, the company points out. Innova cites Moonshot snacks as an example of a brand that's successfully tapped into the "Shared Planet" positioning. The company touts its focus on environmental stewardship in everything from the use of ingredients produced by regenerative agriculture techniques to its packaging made from recycled materials.
"Plant-Based: The Canvas for Innovation" is No. 2 on Innova's list of leading trends, underscoring the fact that nutrition and sustainability are playing bigger roles in the next generation of plant-based foods.
To attract new consumers to plant-based products, "they will have to move way past" merely mimicking meat products, says Williams. "Chefs are great at expanding our imaginations when it comes to what's possible with plants. More and more restaurants feature plant-based options that bring home how meat doesn't have to be at the center of every plate.
"And plants can be used in new ways to make beverages exciting," Williams continues. "Think about functional benefits and flavors," she adds.
Other trends Innova identified include the growing role of technology in food product development, shifting consumer eating patterns. and strong interest in the microbiome's role in health.
Innova Market Insights Trend Talk Schedule
10:30 a.m. – 11 a.m. Health Strategies in Beverages
11:30 a.m. – Noon  Innova's Top 10 Trends 2022
12:30 p.m. – 1 p.m. Plant-Based: The Canvas for Innovation
1:30 p.m. – 2 p.m. Positive Nutrition for Holistic Health
2:30 p.m. – 3 p.m. Trends and Opportunities in the Sweetener Category
3:30 p.m. – 4 p.m. Who's Snacking on What: Consumer Insights