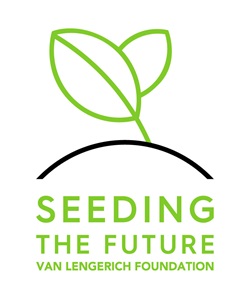 Three winners of the Seeding the Future Global Food System Challenge shared their stories and visions for creating a better world in a featured session at IFT FIRST.
Launched last year and funded by the Seeding the Future Foundation in partnership with IFT, the Global Food System Challenge awarded more than $1 million to support endeavors designed to help transform the food system.
The Challenge focuses on projects that target what Bernhard van Lengerich, who established the foundation, described as the "innovation white space" at the intersection of three domains: safe, nutritious food; sustainable, regenerative practices; and affordable products that consumers trust. "Our moonshot goal is to positively impact the lives of one billion people," said van Lengerich, describing his aspirations for the foundation.
In its first year, the Challenge drew nearly 900 applications from startups, research institutions, and nonprofit groups from more than 60 countries, and competition judges selected 14 award winners to fund, van Lengerich said.
Here's a quick look at the projects highlighted by panelists at the IFT FIRST featured session "What Got Us Here Won't Get Us There: Innovation as Key to the Future of Food."
Developing a strain of rice that resists absorption of arsenic, a common contaminant in rice-growing regions in Asia, earned the International Rice Research Institute a Grand Prize in the Challenge. The grant will allow the organization to work toward expanding availability of the rice, said panelist Jauhar Ali, head of the Hybrid Rice Development Consortium and leader, Hybrid Rice Technologies for the Seed Industry Unit at the institute.
Rice is a dietary stable in Asia, and arsenic contamination is a major problem in many regions because the crop requires irrigation by water that can't be filtered for the heavy metal. Arsenic poisoning is associated with negative health consequences ranging from premature births to cancer.
Panelist Ertharin Cousin, CEO and founder of Food Systems for the Future, which earned a Global Food System Challenge Growth Grant for a project with Afya Feed, told the audience at IFT FIRST about the impact that effort is having in Rwanda. The project involves building a facility to produce poultry feed from black soldier fly larvae, which provides a cost-effective alternative to using soy in animal feed.
"This is a sustainable solution," said Cousin. Soy is a valuable human protein source in Rwanda, where many pregnant women and young children are malnourished and suffer from inadequate protein intake, she explained. Further enhancing the project is the fact that the production facility will use food waste as feedstock for the black soldier flies.
Linda Pfeiffer, president & CEO, INMED Partnerships for Children, an international nonprofit humanitarian group chosen as a Seed Grant recipient in the Global Food System Challenge, said the grant supports the organization's innovative aquaponics program. INMED Aquaponics is working to implement a combined hydroponics and aquaculture agricultural production system in vulnerable communities.
"This grant has allowed us to start an aquaponics hub in an Indigenous region of the Amazon," said Pfeiffer, adding that INMED currently has aquaponics installations under development in Peru, Jamaica, and South Africa in addition to the one in the Amazon region. Where the program has been implemented, it operates as a social enterprise model, helping to provide incomes to those in need and improving food security.