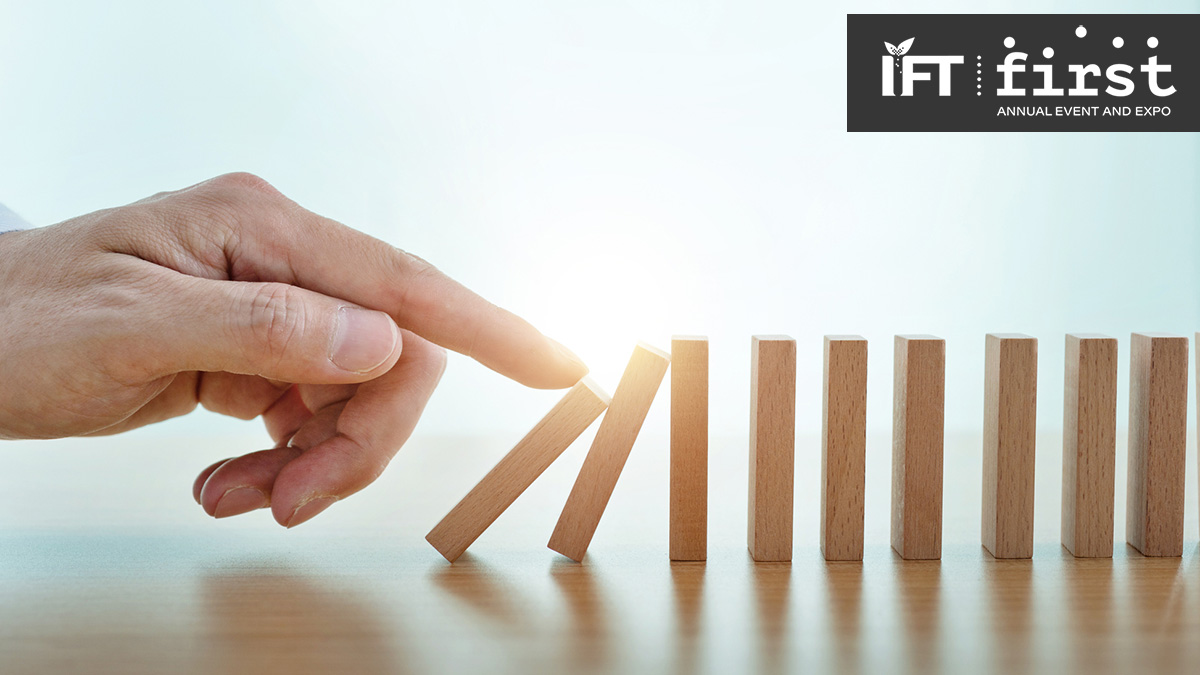 When it comes to current challenges in the food system, inflation and breakdowns in the supply chain top the list.
In the panel, "Rearranging the Dominos: How Food Development is Responding to Inflation and Supply Chain Challenges," panelists David Godfrey-Thomas, Jeff Grogg, Ken Harris, and Gary Iles told moderator Dale Buss about how soaring inflation, supply chain challenges, and geopolitics have affected ingredient and consumer product goods (CPG) companies and the creative and scientific innovations that have helped them persevere.
Iles, senior vice president of marketing and business development for TraceGains, believes the problems have been a long time coming. He told IFT FIRST attendees, "We see little things start to happen, and the first domino fell and caused a cascade of events that has really put us in a bad situation. It's really going to take all of us to get back out of this situation."
Solving the problems doesn't mean going back to the way things were, according to Grogg, managing director at JPG Resources. In fact, Grogg expressed hope that current challenges with the supply chain and inflation could contribute to a more "robust and interconnected ecosystem instead of an ecosystem that's very transactional."
ather than assigning blame to those sectors that played the greatest role in creating the challenges, all of the panelists agreed that it was more important to focus on solutions—an area where the food industry is excelling.
Technology has been a key factor in addressing some of the fundamental issues linked to the supply chain and inflation. Iles pointed to two fundamental advantages to using tech to address the problem: It gives companies the ability to be agile and it creates "tremendous" efficiencies that help combat inflation.
Godfrey-Thomas, president and CEO of Afina International, agreed and added, "the extension of that comment is that we're going to see a significant amount more integration, and in order to be able to integrate efficiently, the food producers are going to need to be acquiring in greater amounts the early stage innovators in order to be able to accelerate the commercialization between innovation and end product, and a more rapid integration between all phases of the supply chain is going to be an important part of the solution."
Until those solutions are deployed, ingredient and CPG companies are working hard to keep supplying their products. Harris, managing partner at Cadent Consulting Group, pointed to changes in sourcing relationships due to ingredient shortages as one example of these innovative approaches—and he noted that those changes might stick even after the supply chain challenges are solved and inflation decreases.
"People have had to, by necessity, do certain things that I think will become behaviors now as people move forward," he said. "I think, over time, a lot of learned behaviors that we had during this period will end up sticking."
To end the session, Buss, contributing editor at Food Technology magazine, asked some quick-hit questions about whether the current landscape had led to more sustainability concerns or changes to brand loyalty. The panelists agreed that consumers were more concerned about sustainability and less loyal to brands than before. It's information that Harris hoped would guide companies going forward.
"A focus on the fundamentals is absolutely critical," he said. "I think that if we've learned nothing from COVID, it is that the more that we focus on the fundamentals, the better we'll be, and in a time where the world has been turned upside down, it necessitates the need to start to innovate and truly change the way we do business."