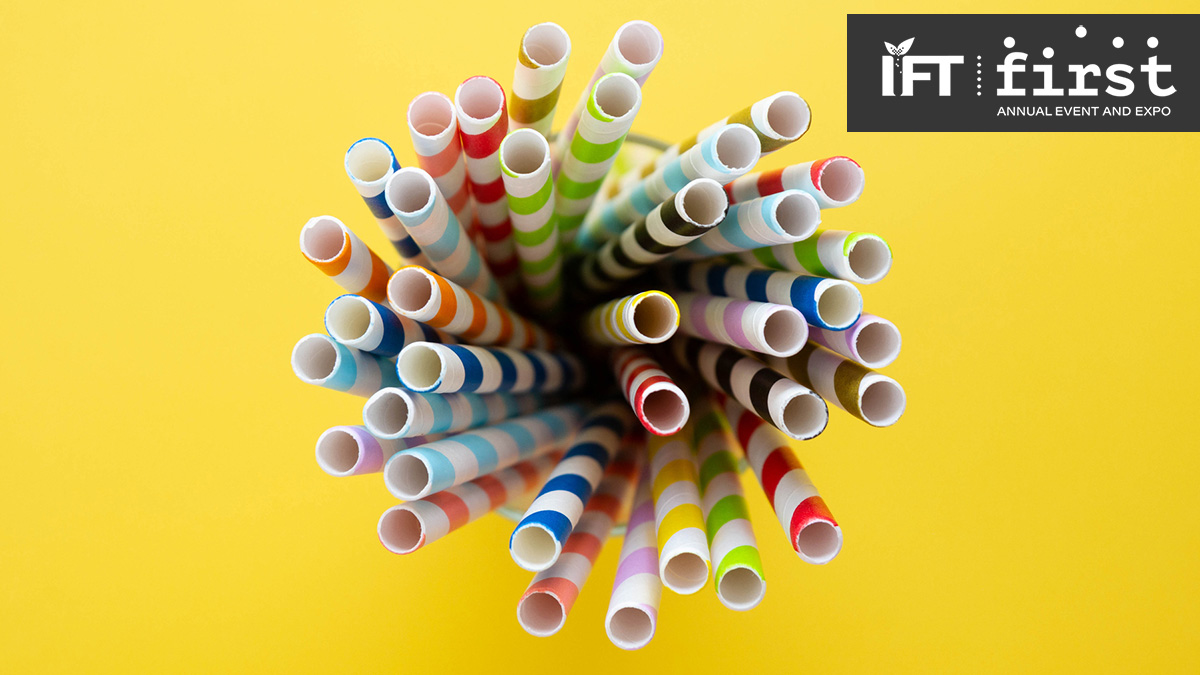 Sustainable manufacturing processes for both packaging and food products will require commitment from consumers, companies, and government agencies—and food scientists have myriad points of influence to drive that commitment, according to the speakers taking part in a multi-session conversation at IFT FIRST on Tuesday, July 12.
To begin with, the various players in the food manufacturing space need a tighter definition of the word "sustainability," according to the panelists, which addressed the theme, "How can companies and consumers drive accountability when it comes to adopting sustainable manufacturing practices?" The speakers had provided on-demand scientific presentations available for viewing prior to the conference and took questions from moderators and audience members based on those presentations.
"Even as scientists, we don't have [a] consistent definition of sustainability. That leads to consumer confusion," said Louise Wicker, adjunct professor, School of Nutrition and Food Sciences, Louisiana State University, whose on-demand presentation covers, "The Indispensable Role of Processing in Sustainable Food Nutrition and Food Security."
National surveys tend to show that sustainability of food options ranks far below consumers' main decision driver—taste—although it's been "creeping up" a bit over the years, according to Robin Dando, associate professor, Food Science at Cornell University, whose on-demand presentation focuses on, "Sustainable Consumable Food Materials: A Case Study on Plastic Straw Replacements."
"We will continue to select foods based on sensory properties. That's reflected in the explosion of plant-based meats," Dando said. "They're seen—rightly or wrongly—as both a healthful and sustainable option vis-à-vis regular meat. That's because of the plants that go into them. Those plants, they were there all the time. We just didn't want to eat them until some clever people made them taste like a chicken nugget."
Dando's research into straws found that consumers don't necessarily want a straw and recommended that companies ask first. But he's not as convinced that people are as willing to compromise on the taste of the food itself and said companies will need to find a balance. "What's the highest level of sustainability you can [achieve] that still gets you that sensory experience?" he said. "That's a product that's likely to be adopted."
Studies related to consumer perceptions of the importance of sustainable packaging tend to vary significantly depending on how much background information participants are provided, said Tony Z. Jin, research food technologist, U.S. Department of Agriculture, whose on-demand presentation is titled, "Sustainable Food Packaging: Current Status and Future Prospects."
"The key point here is consumer education," he said. "Why do we need sustainability? Why is sustainability important? After they're educated, and they know that food packaging material is very important for our planet, they say 'OK, I will go for this kind of packaging.'"
To lower consumer distrust of companies, government, and scientists, Wicker recommended providing "good, accurate, and repetitive information," and making healthier, more sustainable food options as easy to whip up as "going through a drive-through, and picking up supper in a sack." She added that "some of the plant-based meat alternatives, these are going to be highly processed foods. We have to find a better way to communicate the benefits."
Plant-based alternatives are only one way companies can lower their carbon footprint and become more sustainable, said Maddison Gurrola, food technologist, Mattson Co., whose on-demand presentation covers, "Consumer Perception of Novel Ingredients That Will Transform the Food System."
"There's also tapping into consumer demand for flexitarian options," she said. "[Companies should be] finding different strategies to leverage these solutions and present them in a way that consumers are getting that 'taste is king' quality product at the end of the day."
Audience members broke into small groups to talk about their own questions and solutions, then reported back to the larger whole. Reflections included the resistance within companies to make sustainability a priority, especially to the extent that it drives up costs, and the question of, "Is there a way where government or third-party mediation can help drive the change?" as one group put it.
Greater government involvement could look similar to the Food Safety Modernization Act (FSMA) of 2011, Wicker said. "This thing transformed how we approach food safety," she said. "We need the same thing here—a triangle with participation from everyone. No one is 100% happy. That's why we have consensus."
That would prompt companies to develop plans similar to HACCP (hazard analysis and critical control points) plans for sustainability, Wicker said. "Can we not do something similar with sustainability?" she asked. "What is going to be your sustainability plan as part of your product development? It is a core element of what we need to be doing—like packaging, like quality, like food safety, like taste."
Gurrola noted that 80% of a product's environmental footprint is essentially established in the design phase, yet sustainability is often an afterthought. "Why are we not including that in decision factors?" she asked. "Why are we not sourcing regenerative options? Why are we not sourcing lower footprint options?"
Food technologists have a responsibility to communicate their technical knowledge in understandable ways, to prompt consumers to lend greater priority to sustainability, while working with industry to help bring out more sustainable solutions, Wicker said.
"Your friends will trust you as a scientist before they will trust a social media post, or even a news post," she said. "The industry needs to increase transparency and accountability. There are successes that industry needs to communicate, but there is also lots more they can and should be doing. At the governmental level, we desperately need to key leadership in this area. Scientists and consumers should put pressure on the political system to effect positive change."