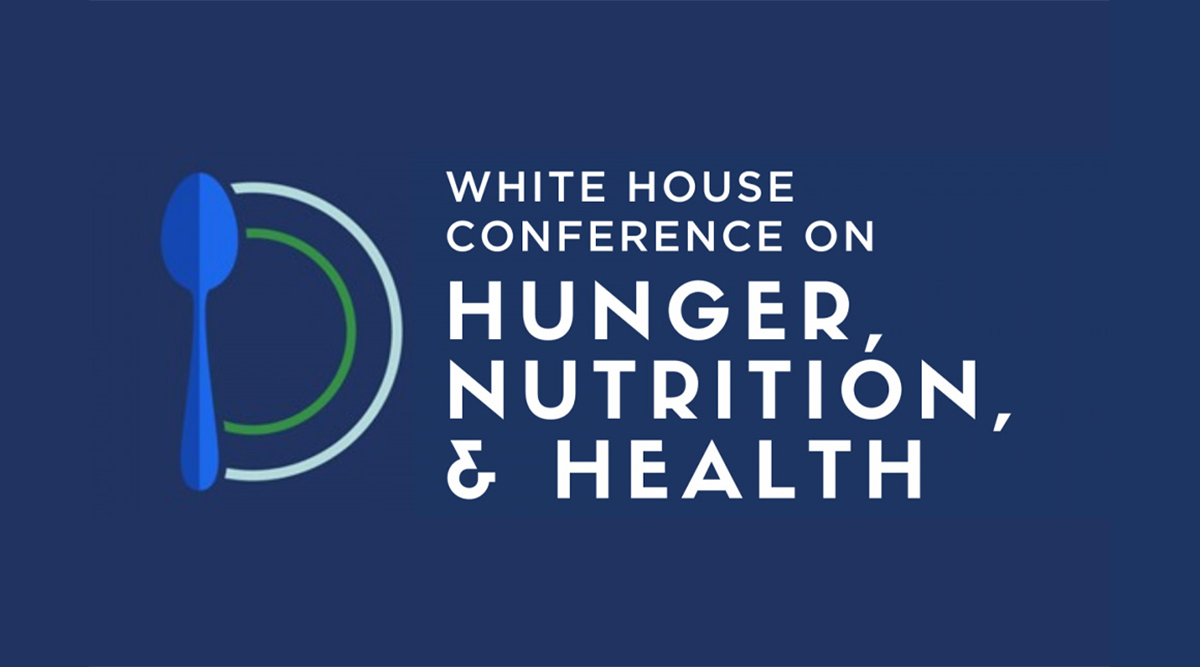 "Conference spurred historic change, improved Americans' health by reducing dietary diseases and ending hunger"
That's the headline I hope to see in 2023 as a result of September's White House Conference on Hunger, Nutrition, and Health. It was a big event with big goals, only the second such conference with this focus and the first in 50 years.
The historic day brought together leaders across the food system, individuals with lived experiences, policy makers, researchers, and more, all with a common goal—to end hunger and reduce diet-related diseases in the United States by 2030.
It was also a much-needed and long-overdue convening, as 42% of American adults are obese and one in three have prediabetes.
The conference was designed around five strategic pillars of the National Strategy for Hunger, Nutrition, and Health, which address food access/affordability; integrating nutrition and health; empowering consumers to make healthy choices; promoting physical activity; and enhancing nutrition and food security research. The pillars served as reference points for discussions, breakouts, and presentations.
While attending the general sessions, networking, and engaging in breakouts, one thing became painfully clear: Too many of us are working in silos.
There are many organizations, government agencies, companies, and committed citizens doing many great things to help improve health and food and nutrition security in the United States. Learning about these efforts was exciting and inspirational. But their work is often segmented and disconnected. We have a lot to learn from each other, and better data sharing, best practices, and collaborating are critical to help us all scale solutions.
The National Strategy's whole-of-government approach is a first step at breaking silos and was seen on the day of the conference, from U.S. Department of Agriculture (USDA), Food and Drug Administration (FDA), and White House staff and others leading discussion sessions to current and former members of Congress presenting and hosting. It was also evident in the FDA's proposed rule defining "healthy" as a nutrient content claim—a rule years in the making that pulls from across agencies as it references the USDA Dietary Guidelines for Americans, in a foods-first proposed definition.
But a whole-of-government approach will also require whole-of-society partnerships. Building partnerships across government, nongovernmental organizations, and the private sector will be essential. Science of food professionals are in a unique position to spark solutions across the food system. Food brings people together, but food science brings the food system together.
Upstream to the farm, downstream to nutrition and consumers, food science unites and brings food and nutrition to scale while simultaneously ensuring safety. As we look to the future, we need to research, collaborate, and innovate across the food system, elevating the critical, connecting role of food science solutions to improve food and nutrition security and health.
If we're going to reach the 2030 goal, we'll all need to help break down the silos and work together, across agencies, across departments, and across the broader food system.
At IFT, we're highlighting the role of food science for food and nutrition security with our Food & Nutrition Security Steering Committee. This group of eight global food science professionals works to identify challenges in food and nutrition security with food science solutions. Over the coming year, we'll be hosting expert roundtables on several of the challenges with plans to publish reports shortly following the convenings. This effort is one of several commitments we've made to the White House Conference on Hunger, Nutrition, and Health. It's also what makes me excited to be a part of IFT, where connecting global food system communities to advance the science of food is at the core.
What will you do to help connect the food system and bring forward food science solutions to help end hunger and reduce diet-related diseases by 2030? Join us. Engage. Advocate. We're better together.
The opinions expressed in Dialogue are those of the author.