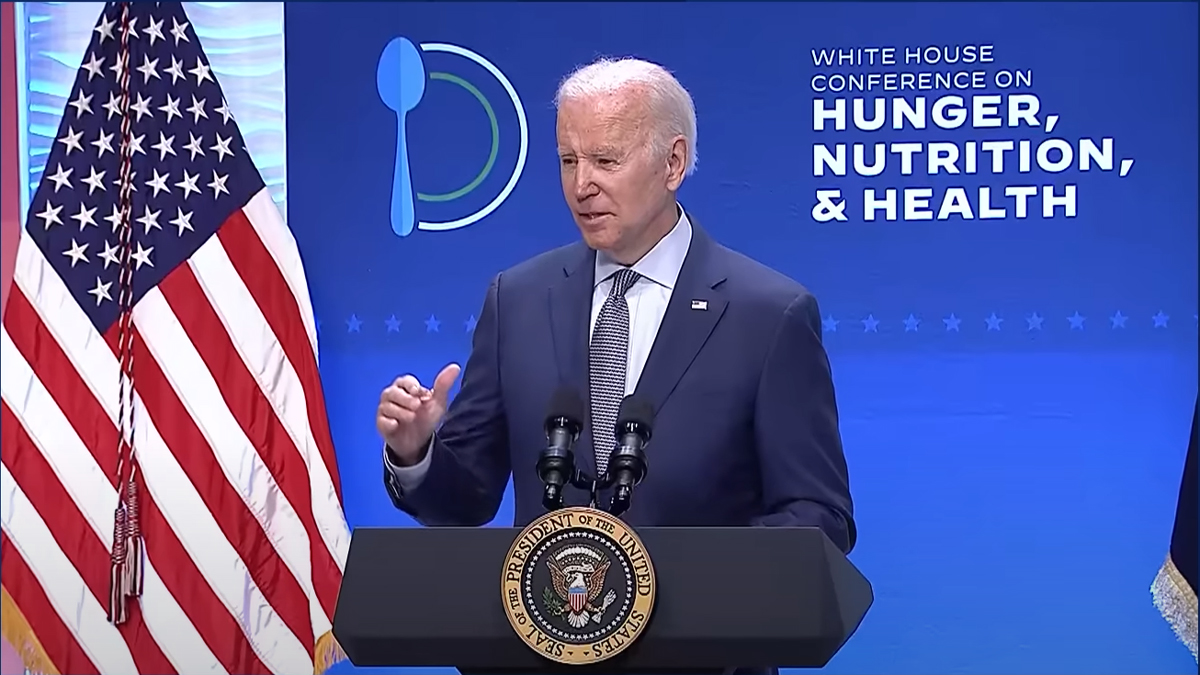 U.S. President Joseph Biden opened the 2022 White House Conference on Hunger, Nutrition and Health on September 28, with a look back at the first such event, hosted by President Nixon more than a half-century ago. That conference in 1969 resulted in a number of initiatives that transformed food and nutrition in America, including the school lunch program, food labeling, and the Special Supplemental Nutrition Program for Women, Infants, and Children (WIC).
With more than 50 years of research and development since that first White House Conference on Hunger, Biden convened a follow-up event to explore new ideas and initiatives to end hunger in the United States by 2030 and to lower the toll that diet-related illnesses takes on the country, he said. He shared three overarching goals for the conference:
Help more Americans access the food that will keep their families healthy and fed.
Give Americans the information they need to access healthy food.
Help Americans be more physically active.
In a deeply divided country, almost everyone can agree on the importance of healthy food and nutrition. "Working together to end hunger in America is a way for us to start talking to one another again," Biden said.
In three plenary sessions throughout the day, leaders in government, nonprofits, and the food industry took the stage to share their ideas and visions for transforming nutrition to build a healthier nation.
Understanding the Crisis
One of three government dollars is spent on healthcare in the United States, and more than 80% of U.S. healthcare problems are preventable, said Senator Cory Booker of New Jersey. "I feel passionate about this topic and this conference because we have a crisis," Booker said. "We want to be a country that leads the world in science and technology, but we also lead the world in diet-related diseases."
In addition to diet-related sickness, many Americans also face hunger. "America produces an abundance of food but one in 10 of us live with food insecurity," said Xavier Becerra, secretary of the Department of Health and Human Services.
Envisioning Solutions
The White House Conference convened a wide variety of thinkers to explore and introduce various solutions to help overcome the U.S. food crisis.
Rely on Food, Not Medicine
In a country beset by diet-related illnesses, several speakers encouraged the food industry to partner with healthcare to build healthier Americans. "We have to get to the point where everyone realizes that food is medicine," Becerra said.
Eric Adams, mayor of New York City, discussed how his dietary changes eliminated debilitating symptoms of diabetes, and how he watched his insulin-dependent mother leave medicines behind after switching to a plant-based diet. "Going to bed with a full belly that isn't nutritionally sound is just feeding the healthcare crisis," Adams said.
Rebecca Onie, co-founder of The Health Initiative, told the story of Dr. Jack Geiger, a physician practicing in the Mississippi Delta in the 1960s. Because many of the patients Geiger treated were malnourished, he began writing prescriptions for milk, meat, fruits, and vegetables that could be filled at grocery stores, which were instructed to send the bills to Geiger's community health center to be paid out of the pharmacy budget. When Washington bureaucrats heard about the practice, they reprimanded Geiger, telling him the funds were to be used for medical purposes. "The last time I looked in my textbooks, the specific therapy for malnutrition was food," Geiger replied.
It's time to revisit Geiger's wisdom and make nutrition an important part of the U.S. health system. In recent studies, every focus group chose "access to healthy food" and "safe housing" as more important than "healthcare" for building healthy communities, Onie said.
Expand Government Programs
A number of speakers advocated for expanding government programs including WIC, senior nutrition programs, school lunch programs, and the Supplemental Nutrition Assistance Program (SNAP). Many also expressed support for the permanent expansion of the Child Tax Credit.
"We need to build on the programs we have to increase the ability for families to have economic security to be able to afford healthy food," said Representative Rosa DeLauro of Connecticut.
Chef Jose Andres, a Spanish-born chef and founder of World Central Kitchen, which provides meals in the wake of natural disasters, recommended launching a new federal agency focused on ensuring safety of the food supply and ensuring all Americans have access to healthy foods in times of crisis and every day.
Recognize Community Solutions
While the federal government works to develop national programs to help fight hunger and diet-related illnesses, many of the best ideas are already underway in local communities, said Senator Debbie Stabenow of Michigan. For example, a few years ago, a group of five farmers' markets in Detroit started doubling the value of food stamps for customers purchasing their fruits and vegetables. Today, "Double Up Food Bucks" is available in 25 states, allowing food stamps users to purchase twice the fruits and vegetables, Stabenow said.
Similarly, when Michigan was facing the Flint water crisis, leaders shared that good nutrition was one of the best ways to fight lead exposure, Stabenow explained. A group of Michigan milk producers stepped up to donate milk to Flint-area children to help abate the crisis. Their generosity led to the national Dairy Donation Program, established by the U.S. Department of Agriculture in 2020.
"Many good ideas come from local communities working to solve local problems," Stabenow said. "We're anxious to hear about the local ideas that we can build on to help fight hunger nationally."
Mayor Adams of New York City shared some local ideas that are working in his city and could be expanded nationally. For example, one New York hospital is defaulting to plant-based meals unless patients choose to opt out—and 95% say they like the plant-based meals. Also, New York City schools are building nutrition into the educational curriculum and the lunchroom offerings, which feature Meatless Mondays and Plant-Powered Fridays.
Rethink the Role of Food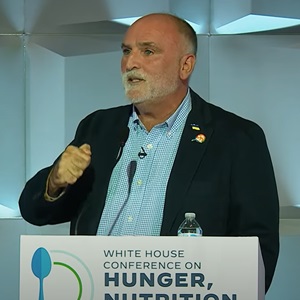 In an emotional presentation, Chef Andres challenged Americans to reconsider the way we view food. As "the most important source of energy in this country," food can be the solution to many of the problems we face, he said.
Andres painted a vision of how food can help revitalize the country by:
Driving economic growth. Andres advocated for the creation of food improvement districts, which would encourage the development of coffee shops, restaurants, and grocery stores in food deserts across the country.
Improving health. By investing in the nation's school kitchens and providing universal free breakfast and lunch, schools can be used to improve the food health of the entire country, Andres said.
Feeding citizens in emergencies, as we face climate and other crises. When every other business was closed during the pandemic, restaurants were open, ready to feed people. Andres hopes to see restaurants and foodservice businesses partnering with faith-based and other organizations to commit to feeding people who are managing through natural disasters and other crises.
"A meal is so much more than a plate of calories; it's a plate of hope, a voice for the voiceless," Andres said. "We need to write a new recipe to feed a hungry nation and build longer tables so everyone can eat from them."